This is the first post in a Ladyguides series that I like to call Adventures in Baking. In this series, I will bring you some of my favorite recipes with step-by-step photo instructions on how to create them. Today's adventure is Blueberry Cheesecake Pudding Parfait.
A few months ago when the August issue of Bon Appetit magazine arrived in my mailbox, I knew immediately that I had to make the delicious-looking parfait that graced its cover. For me, Bon Appetit is usually little more food porn "" gorgeous photos featuring complicated recipes I never have enough time to do with the occasional handy tip or trick. This one was different, though. I could tell from first glance that this parfait had to be mine. Despite the effort and the long wait between that first zest of lemon and the first delicious bite, it was worth it.
I halved everything, since there are just the two of us at my house, and I don't need tasty backup parfaits taunting me in the fridge. But here's what you're going to need for the full batch: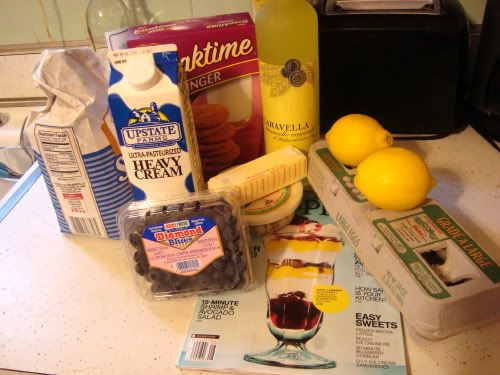 INGREDIENTS
Lemon Curd:
6 tablespoons (3/4 stick) unsalted butter
2/3 cup sugar
1/2 cup fresh lemon juice
2 tablespoons grated lemon peel
2 tablespoons heavy whipping cream
Dash of salt
2 large eggs
3 large egg yolks
[In a pinch, you can use pre-prepared lemon curd. Some bakeries and grocery stores sell it, but is much better fresh!]
Blueberry Compote:
2 cups fresh blueberries (about 12 ounces)
3 tablespoons sugar
2 tablespoons limoncello [lemon liqueur, you should be able to find it at a liquor store]
1 teaspoon lemon zest
Parfait Layers:
4 ounces gingersnap cookies (about 16)
1 1/2 cups chilled heavy whipping cream
1/3 cup mascarpone cheese
Dash of salt
Tall parfait glasses [or substitute]
We'll first start with the lemon curd, which will need to set overnight. Melt the butter in a heavy saucepan over medium heat, trying not to let it boil.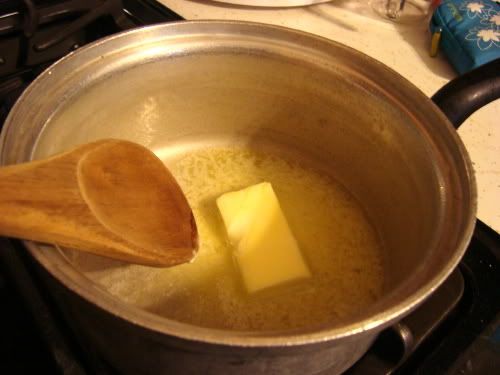 Whisk in the sugar, lemon juice, lemon peel, cream and salt.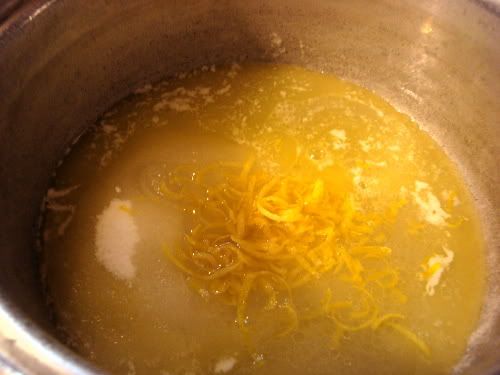 Add the eggs and additional yolks. Return the pan to the stovetop and whisk them in well. Cook the mixture until it thickens, stirring constantly. You'll know it's done when you can trace a line in the curd on the back of a wooden spoon and it doesn't bleed back together.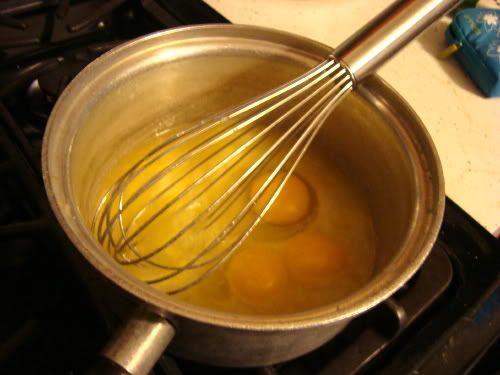 Strain the lemon curd through a fine strainer into a bowl. There will be bits of lemon peel and such, but the remaining curd should be pretty smooth.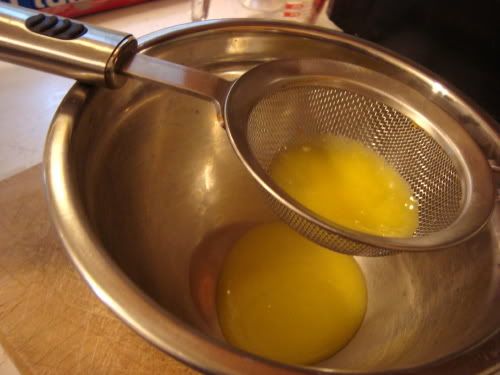 Cover the bowl with plastic wrap, making sure the wrap sits tightly on top of the lemon curd, not over the rim of the bowl. Chill overnight, or at least eight hours.
In another bowl, mix the blueberries, lemon zest, sugar and limoncello. Mix it well so the sugar dissolves into the liquid. You can also prepare this step a day or so in advance if you need, but it should sit for at least three hours to let the juices flow. I like to crush the berries just a little bit so the flavors can mingle, but not so much that it's a bowl of mush.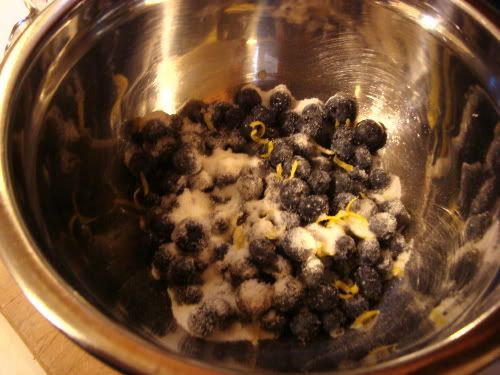 When you're ready to assemble, place the ginger cookies in a plastic baggie and crush them into decent-sized bits. You don't want a fine powder, but you want them a little smaller than bite-sized so you can get a spoonful of all the different flavors.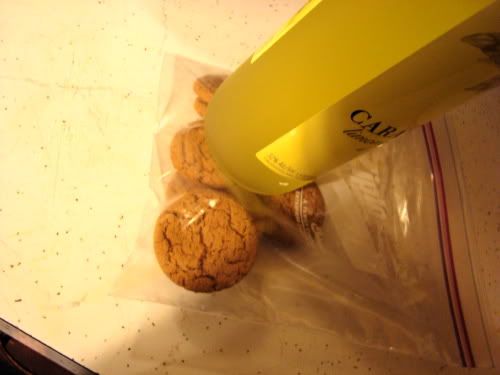 In a bowl, mix the heavy cream and the mascarpone cheese with a pinch of salt.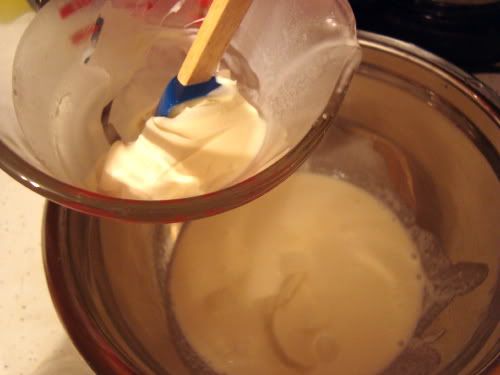 Beat them vigorously until soft peaks form. You don't need stiff peaks like a meringue, but you do want it to be able to stand up on its own in a parfait glass and not drip into the other layers.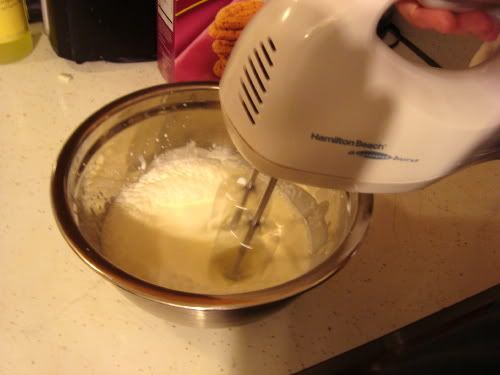 Like so"¦
Now! Finally! It is time to assemble. Gather all the things!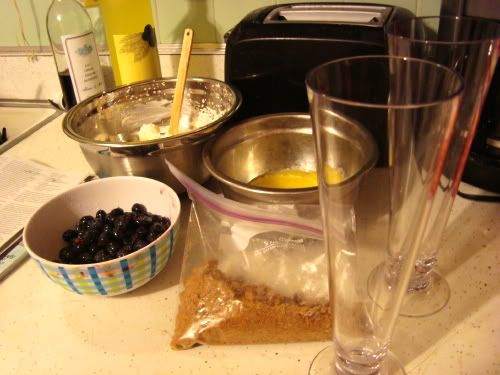 Start with blueberries in the bottom, followed by the cream cheese layer, then lemon curd. Sprinkle ginger snap bits in the middle, then cover with cream cheese, more lemon curd, and a top layer of blueberries.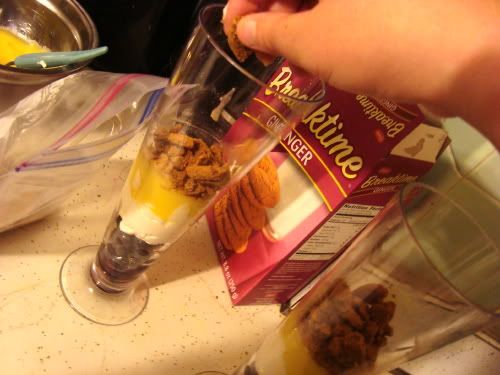 Put what's left of the mascarpone cream mixture into a pastry bag or a plastic baggie with one corner snipped off, and make a swirl of whipped topping on top.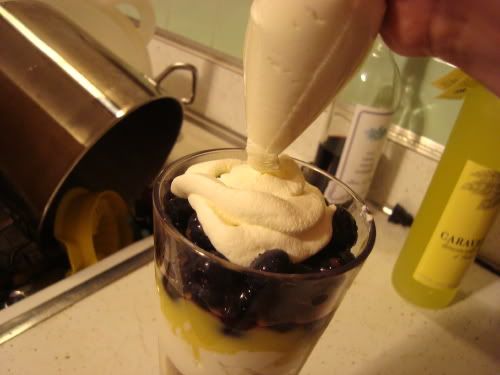 You thought you were finally going to get parfait, right? Well, unfortunately, you were wrong. Let the mostly-completed parfaits chill in the fridge for 1-3 hours. You can let it set longer if need be, but you don't want the cookie layer to get soggy.
Finally, after much patience, you're ready to eat. Sprinkle some ginger snap crumbs on the very top right before serving and prepare yourself for a delicious treat.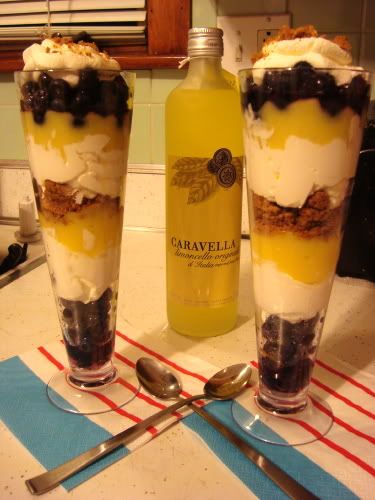 That's all I have for you today. I hope you can find a smaller bottle of liquor than I did, but if you end up with a lot left, I can't recommend enough fizzy blueberry limoncello lemonade. Just crush up some berries in the bottom of a glass, add limoncello and a pinch of sugar, and top off the glass with plain seltzer. It's one last sweet taste of summer!
Thanks for checking in to Adventures in Baking. Stay tuned next time for some delicious fall classics.