A couple of weeks ago, we looked at my favorite style heroines of television, so I thought today we might take a trip back into classic cinema to visit my favorite early heroines of style on film. These are the looks I love to emulate whether I'm playing the ingénue, the damsel in distress, the spunky girl reporter, or the ice princess.
Audrey Hepburn in Charade
Listen, Breakfast at Tiffany's is fine if you want to mope around with a Danish and a cigarette holder and a pink tiara, and I completely understand why you might want to, but Charade fashion is for the girl on the go. On the run, more like it. This Hepburn-Givenchy fashion collaboration is for the lady who lunches with one eye on the assassin trailing her. The heels are low, for dramatic chase scenes, there are lots of big sunglasses to hide behind, a leopard print pillbox hat, and the men are, well, Cary Grant. Who could ask for anything more? Just don't let the bad guy flicking cigarette ash on your clothes intimidate you; it won't burn. And if it does? Shoot him.
Debbie Reynolds in Singing in the Rain
This movie is all about the boots and trench coats. Look at those boots! Those are wide-legged, high-heeled, red rain boots! With a matching coat! For the less practically-minded, it also contains a green sequined dance costume with a rather spectacular pair of fishnet stockings over the even more spectacular legs of the great Cyd Charisse. This is a spoof on old Hollywood, so there's a whole lotta sparkle, a whole lotta dancing, and a whole lotta Gene Kelly–though I've always been partial to a Donald O'Connor type myself.
Katharine Hepburn and Ruth Hussey in The Philadelphia Story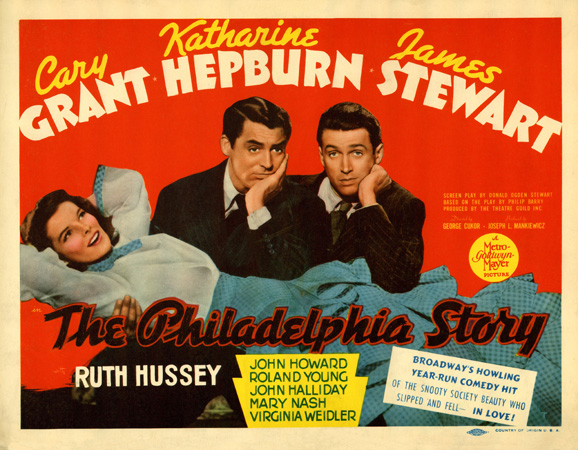 The waists are high, the hair is immaculate, the boats are yaw, and Katharine Hepburn is a magnificent bitch. While KHeps, yeah that's right, has some stunners in this film–the collared dress with the embroidery on the bodice comes to mind–I am also partial to Ruth Hussey's magazine girl attire. She's got little suits, and little hats, and she's always got a one-liner to spare.
Ingrid Bergman in Casablanca
You had to know this one was coming. The simple white suit with the broach when she first comes to Rick's. The scarf over her hair when she sneaks in to see him. The trench coats and hats at the end. It's all suitably wartime austere, but it's beautiful. Here's looking at you, kid, indeed.
I would never have enough space and time to talk about all the characters and costumes I love from old movies. Claudette Colbert from It Happened One Night is an honorable mention, as are Rosalind Russell from His Girl Friday, and the inimitable Vivien Leigh from Gone with the Wind. Who are your favorite fashion icons of the classic silver screen?