I took several semesters of Art History in college, and was disappointed by the lack of female artists represented in all but fairly modern time periods (that was lacking as well, but at least a few ladies were thrown in there). After covering a few millennia of art and architecture, we finally reached the Baroque period and all the wonderful gaudiness it included. Finally, a woman painter. One that featured strong female subjects. Biblical heroines. And by her works that survived the last 300+ years, she gave the Old Masters a run for their money.
Born in July 1593 and raised in Rome by her artist father, Artemisia Gentileschi was exposed to art from a young age, but received no formal schooling. She showed great artistic aptitude and was able to apprentice with her father and his associates. At 17, she painted Susana and the Elders, which drew inspiration from Caravaggio's chiaroscuro style of painting, which is distinguished by the use of dramatic lighting and shadows.
When she was 18, she was raped by an acquaintance of her father, Agostino Tassi, under whom she was studying. He promised to marry her, and she continued relations with him. When he refused to leave his family and marry her, her father brought charges against him, and Tassi was arrested for rape. This was rather uncommon and the trial created a spectacle that lasted many months. During the trial, Artemisia was subjected to invasive exams and torture by thumbscrews to confirm the truthfulness of her claims. In the end, Tassi was convicted and received a sentence of a year in confinement, but never served any time.
After the trial, her father arranged for her to marry Pierantonio Stiattesi. They moved to Florence, and she had five children. Only her daughter, Prudentia, survived childhood. Her career flourished. Her professional circle included Galileo, Michelangelo's nephew, and a few Medici dukes and duchesses. It was during this time that Artemisia explored the story that she is possibly most noted for: Judith Beheading Holofernes.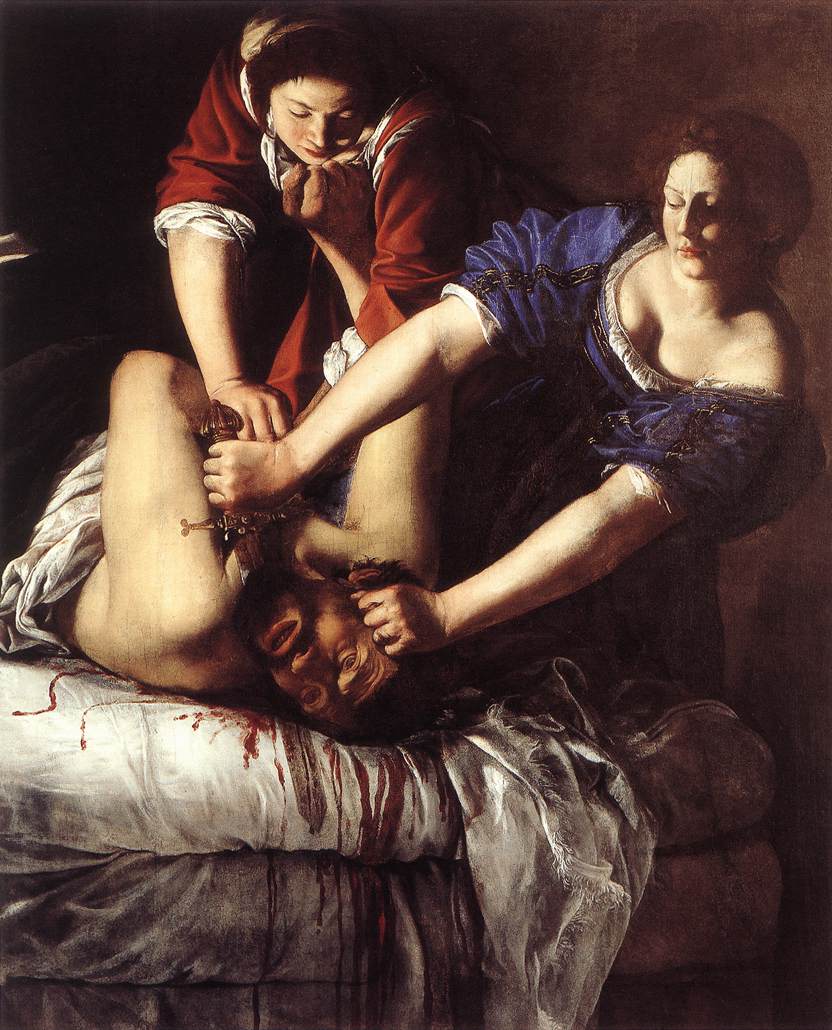 It was shocking, both for its violence, and because of the gender of the artist. Her skill was equal to any of her contemporary male painters. Her use of strong female protagonists fueled speculation about her personal life. Her home life deteriorated, due in part to her husband's debts and numerous reported infidelities. He left Artemisia and her daughter and she returned to Rome in 1621. During this time, she also completed The Allegory of Inclination, Judith and her Maidservant, and another version of Judith Slaying Holofernes.
Her return to Rome was less than lucrative, as (a) she was a female in profession that women just didn't have, (b) she had a reputation for being strong-willed, and (c) she was a single parent trying to raise her daughter, which I don't imagine was any easier in the 1600s than it is today. The alter pieces that were the most sought-after went to male artists. Artemisia moved on to better prospects in Venice.
While in Venice, she received a commission foe Prince Philip IV of Spain, a companion piece to Rubens and Van Dyck's Discovery of Achilles, but fled to Naples soon after to avoid the plague of 1630.
In Naples, fortunes turned her way. It was a city with many wealthy patrons and she began getting the cathedral work that had been previously elusive because of her gender. While in Naples, Artemisia completed St. Januarius and Birth of St. John the Baptist.
Her reputation got the attention of Charles I of England, and he demanded that she travel to London, where she completed the "suggestive" Self-Portrait as the Allegory of Painting. She left England in the early 1640s, where civil war was about to break out, and returned to Naples, where she was active for at least the next decade.
The date of her death varies. There are no clear reports, just a few slanderous epitaphs that mention nothing of her life or work, just accusations of being an adultress and nymphomaniac. Some have surmised that she passed away during a plague that wiped out much of the Neopolitan population in 1656, while others report that the lack of death records may suggest that she committed suicide.
Judith, Cleopatra, Bathsheba, Susana, Mary Magdalene – all bad-ass ladies of history in their own right – immortalized in oil by the amazing hand of Artemisia Gentileschi. She made her mark in a craft that is still, to this day, dominated by men. In my humble opinion, that's pretty bad-ass.