Finding the perfect gift for one of your best girls can be a daunting task. You would think that buying a gift for the person you usually know better than anyone else in the world would be simple.
Unfortunately, that in-depth level of knowledge often brings with it the desire to find something truly perfect to show that you can see into her very soul to find a unique, thoughtful, and that proves you are the best BFF a girl could hope for. Hopefully one of the items below will help you on your quest.*
unicorn laser cut acrylic necklace BLACK by sweetfairyboutique.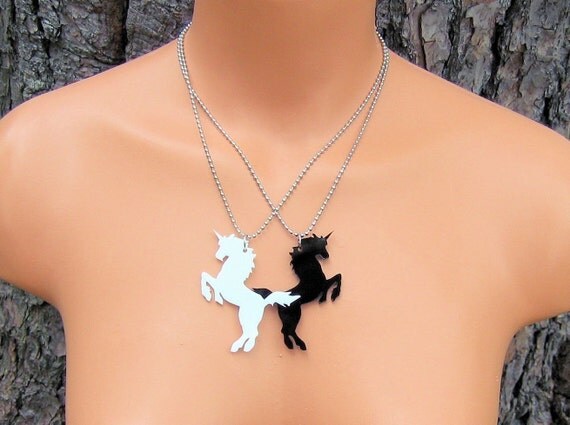 Unicorns are the shit. This is not new information to anybody who reads this site regularly. Fulfill someone's desire to incorporate Lisa Frank awesomeness into their grown-up life with one of these amazing unicorn necklaces. This Etsy shop has tons of adorable jewelry options to choose from.
l a d y n i c k s by goldfawn on Etsy.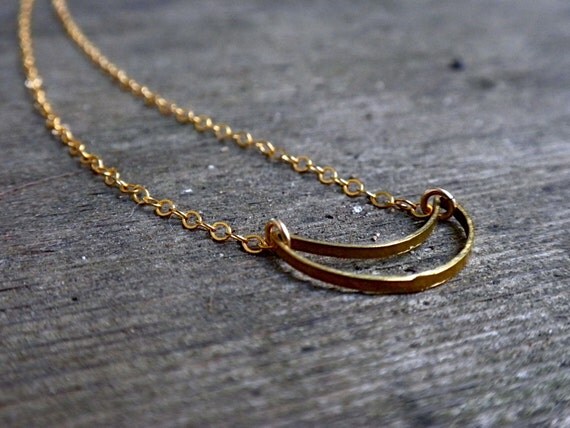 I found this Etsy shop some time ago while doing a search for Stevie Nicks items. The items in this store are a perfect blend of hippie and sophisticated, and I will always support designers who use one of the most fantastic style icons in the world as their inspiration.
Fox Necklace in Sterling Silver by michellechangjewelry on Etsy.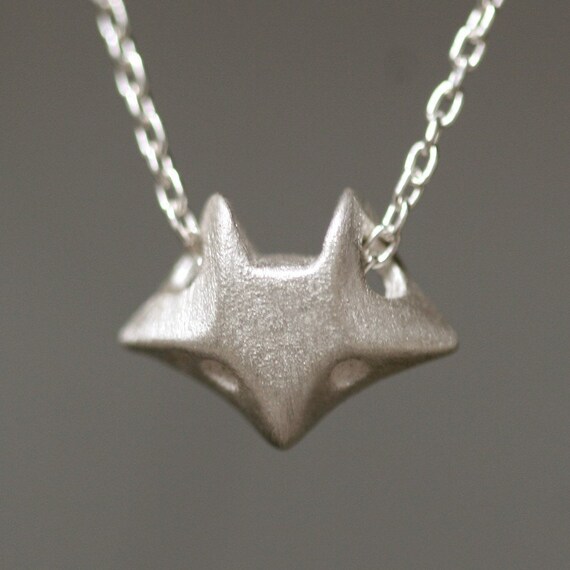 I want everything in this shop. Every. Single. Thing. While many of the pieces are a little out of my price range, there are many to choose from in the $60 range. I love the look of matte hammered silver and gold. So cute and so simple, the pieces really go with everything.
Cute Kitty tote bag by PaisleyMagic on Etsy.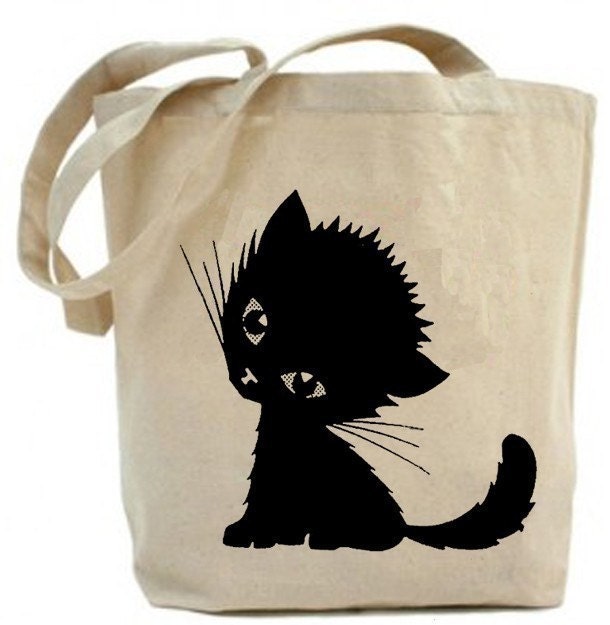 I have been making a concerted effort to take reusable bags with me wherever I go. I hate ending up with fifteen plastic bags every single time I make a run to Target or the grocery store. These totes are awesome because a) kittens!, b) they can easily be folded up and slipped into your purse, and c) it can also double as a gift bag if you have other stuff for them. Plus, KITTENS!!
Best BitchesMADE TO ORDERHand Stamped Brass Split by MetalTaboo.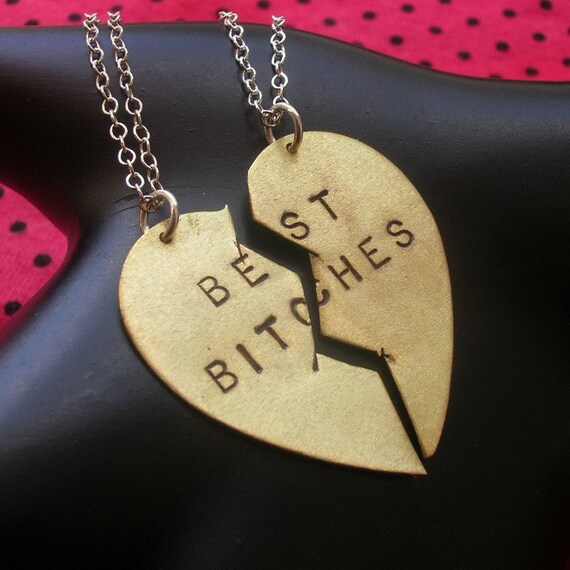 The coolest adult version of the BFF necklace around. How much would your best bitch love this?
We're Cooler Than Everyone Else 8×10 Typography Art by LuciusArt.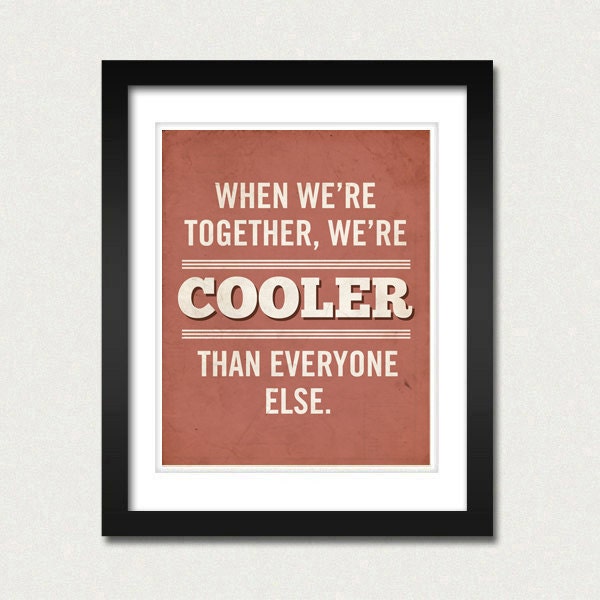 Sometimes a print will so perfectly encapsulate a sentiment that you have to purchase one. This is one of those prints. While we all know that we are perfectly awesome on our own, who doesn't feel their Wonder Twin powers expand when you team up with your bestie?
Sense and Sensibility – Books by Jane Austen – Penguin Group (USA).
One day, I will have a home that has beautiful built-in bookcases that will house the overwhelming mass of books I have hoarded all these years. These Penguin Classic hardcovers would look so gorgeous in my imaginary library, and will class up any bookshelf around.
Beach Decor Cast Iron Mermaid Bookend or by beautifuldetailswed.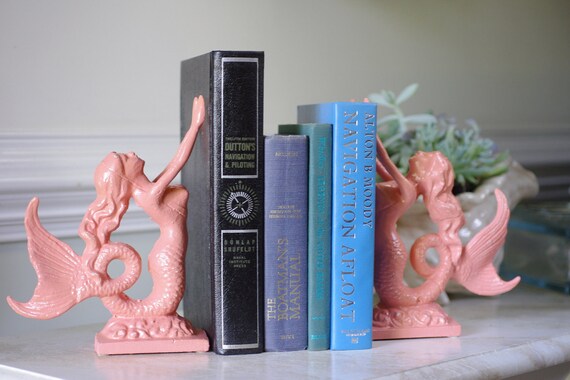 I'm a redhead, so The Little Mermaid has, and always will be, my favorite Disney movie. Yes, I know, it is incredibly problematic, feminist-wise, as most Disney princess movies are, but she was a redhead, so I can't help it. Their is a ginger sisterhood that runs deep and there is nothing I can do to stop it. Long story short, I love mermaids, and by extension, these awesome bookends.
I know the whole "Women love shoes!" things is kind of a cliche, but I actually do have a jar that I use to save up for shoes, so there. I am unapologetic about my adoration of pretty, pretty footwear, but unfortunately, I no longer have the disposable income to splurge, hence the jar. In this economy, many of the shoe-loving among us may just find this little jar to be extremely helpful.
Locher's – Nice to have you visit – No Time To Fuck Top.
If you have never examined the goods at Locher's, I suggest you head over there immediately and revel in the awesome. They have a range of goods that look adorable and sweet on first glance, but then revel super sassy camouflaged sayings. Twee tops that proclaim, "I ain't your fucking sweetheart" and "I love porn"? What could be better? They have also expanded into jewelry and bags, making it even more wallet-draining for me.
Happy shopping, y'all!
*For those not totally familiar with Etsy, when an item is purchased, the listing is marked as "Sold." You might run into this problem should someone purchase an item I linked to, but please do not despair. Most stores have multiples of items, they are just listed individually. If you go to the store's main page, you can usually find another of the item there.