I like to believe I have a deeper understanding of the male mind than many of the ladies in my life. I grew up with four brothers, which, as a child, meant they tortured me, made me watch incredibly age-inappropriate scary movies that scarred me for life, and proved that having a vagina afforded me no special treatment in football or wrestling matches. As an adult…
it has meant that I have been given unprecedented access into the workings of the male mind when it comes to relationships, fatherhood, and all the other fun and horrifying things that run through their heads that show how differently males and females interpret the exact same life experiences (this is probably fodder for a whole other article). Because we are a close knit bunch, I know incredibly intimate details that I would prefer being ignorant about. I can only hope that being burdened with too much info has helped me help you all in purchasing gifts for the men in your life. To be perfectly honest, though, I want a ton of this stuff, too, gender stereotypes be damned!
CLINT EASTWOOD Dirty Harry man cave decor by mediagraffitistudio.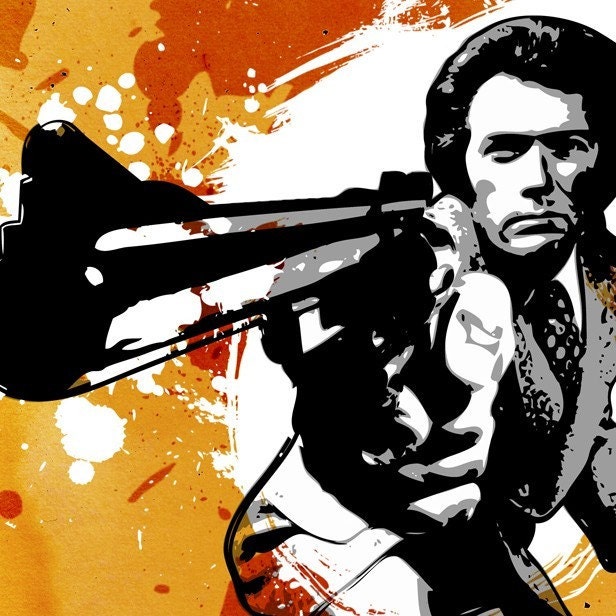 Clint Eastwood is the epitome of manliness. Buying art for people is a tricky proposition, but this print popped in a frame is a pretty much universally applicable gift for dudes. In an office surrounded by guys, nary a week goes by that I don't hear "go ahead, make my day" at least once.
The Walking Dead Rick Grimes Laptop Decal by Walkingdeadpromotion.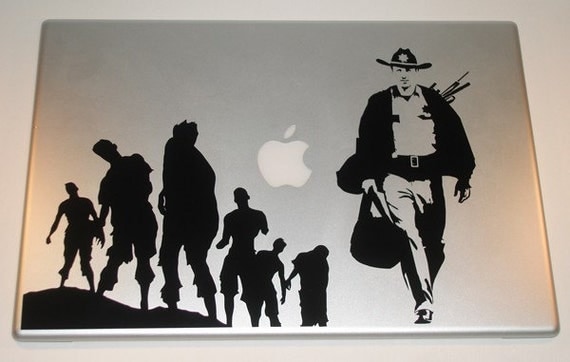 The requisite zombie/Walking Dead gift for the undead lover in your life. This decal can be applied to so much more than just a laptop. I am batting around the idea of putting it on a blank canvas and popping it up on my wall. Rick Grimes is a bad ass.
 Tesla vs Edison T-Shirt from Monsters of Grok.
This website has so many awesome t-shirts, picking one was almost impossible. I basically did they "close my eyes and point" because I want to buy them all. Not only do they have these geeky goodies, they also have other sections for us nerdy, bleeding heart, science-loving liberals. Seriously, check it out.
People I Want To Punch In The Face by 27thStreetPress on Etsy.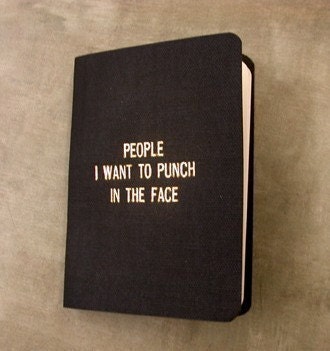 For the adorable, journal carrying poet in your life. Or, for the person who likes to keep a list of their arch nemeses on hand at all times.
Unique 2.3 LCD Laser Gun Target Shooting Alarm desk Clock Set – $28.58.
Even the most anti-gun among us have to admit that this is pretty cool. For those who enjoy target practice or who are unable to get their asses out of bed without hitting snooze five times. I totally need this thing because if my snooze addiction gets any worse (compounded by my ability to sleep through both of my alarms going off simultaneously), Jon may divorce me. If I had this, I would be forced to actually wake up, as opposed to violently hitting the nightstand repeatedly until my fist finally silences them both.
Philosoraptor 8×10 by RagePaints on Etsy.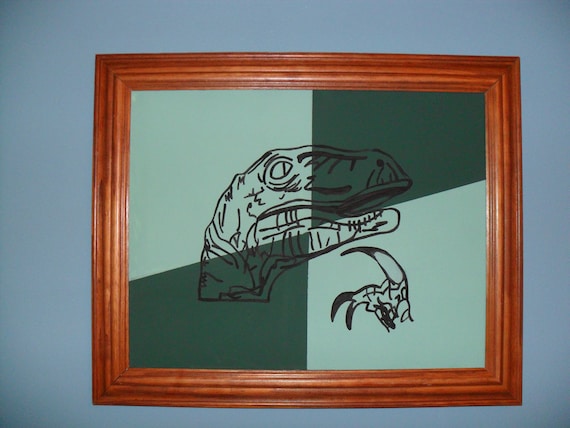 For the meme or reddit lover in your life. This Etsy store has even more options to choose from. If you want to seem super cool to your teenage reddit-addicted nephew, this is the way to go.
The "Roast My Weenie" Hot Dog Cooker – Roast My Weenie.
Presented with no comment other than this shit is hilarious.
Amazon.com: Batman Comfy Throw Blanket With Sleeves: Home & Garden.
I'm not going to lie to you guys – I have a Snuggie. I love my Snuggie. Jon has a Snuggie. Jon also loves his Snuggie. This is a fucking BATMAN Snuggie. I don't want to live in a world where I would have to explain why this is a near-perfect gift.
Amazon.com: Five Finger Fillet Black Steak Knife Holder Designed By Raffaele Iannello: Kitchen & Dining.
Since I know very few women who feel the need to demonstrate their hand/eye coordination by rapidly jamming a knife at their fingers, this spectacular knife set had to go in the dude's gift guide. While I will never understand the societal pressures of manhood that would lead anyone to think this stupid game was a good idea, I can appreciate a cool knife set when I see one.
Amazon.com: Ninja Coat Hook: Home & Garden.
Need. Covet. Want. This coat hook reminds me of that episode of South Park where all the boys pretend like they are orphans so the weapon salesman at the fair will take pity on them and not force them to have parental permission to buy weaponry and then they proceed to get a throwing star embedded in Butter's eye, dress him up like a dog and drop him off at the vet in order to avoid getting into trouble. I know that was a confusing synopsis, but this is a gift guide, not a South Park recap, so if you haven't seen that episode, seriously, check it out. It is horrifying and hilarious. Seriously, though, masculine home decor is hard to come by. I think these definitely qualify as "dude" decorating.
Steampunk Gun Nerf Maverick NStrike by oldjunkyardboutique on Etsy.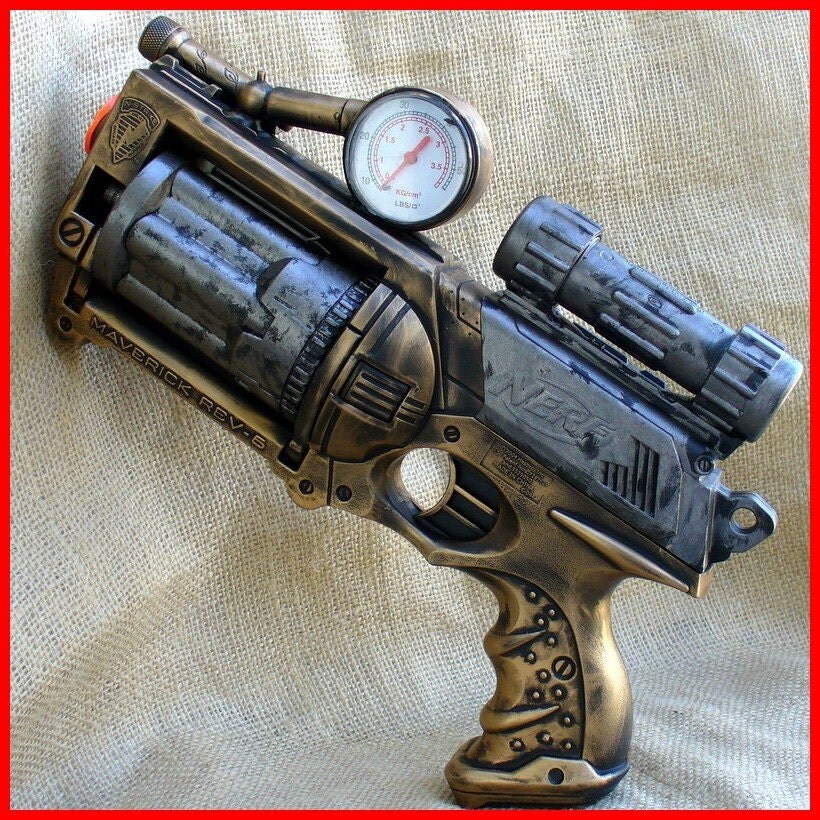 My oldest brother is one of the hardest people in my life to buy gifts for. He has enough money to buy himself whatever he wants, so trying to find something he doesn't already have is near impossible. A few years ago, someone got him a Nerf gun. This upped his usual "wad up wrapping paper in the tightest, hardest ball possible and throw it at your sister's face" game to "shoot Nerf darts at your sister's face." Basically, I am going to get hit in the face with some sort of projectile, so I might as well be able to find a gift for the jerk at the same time. This Etsy store provides ample options.
Squirrel with Mixed Nuts – 3D Magnets.
Squirrel nut magnets. That is all.
Happy shopping, my lovelies!