Oh-ho-ho-ho, I love this time of year for scarves on Etsy. While most of us keep a bulky scarf or two for those winter days we spend freezing our asses off at the bus stop, we all look forward to the day when we can break out our lighter, more delicate spring/summer scarves. In this edition of Etsy Betsy, you will be ooh-ing and ah-ing over what I have to show you. Oh my darlings, lock up that credit card right now; you've been warned!
Before we get started, it is my duty to direct all of you to the video below, which is far-and-away the best and most complete scarf-styling guide I have ever seen. If you didn't want a scarf before watching the video, you will absolutely want one after.
Love at First Sight "" $17
At 72 inches long and 18 inches wide, this is a whole lotta scarf to love. It is crinkled chiffon, which makes it light enough for a summer day indoors but warm enough for a chilly Spring afternoon. I think the seller gets this right placing it over a casual top – this scarf looks as if it might go with just about anything in the closet, camisoles included.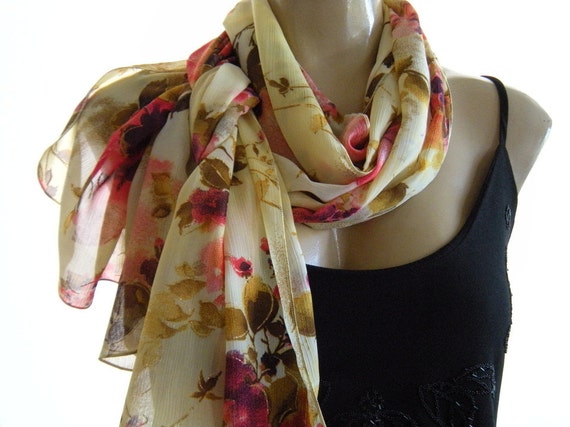 Mustard Scarf "" $17
If you're anything like me, your heart did a little flip when you saw this. I love the detailing on the ends of the scarf, which add flair to an already-magnificent design. Not counting the lace, it is 61 inches long and 19 inches wide and made of cotton. The smaller and larger polka dots create a really interesting visual experience that stopped me in my tracks while searching for scarfs. I can see wearing this with a casual jacket and a plain undershirt, which would let the scarf take center stage.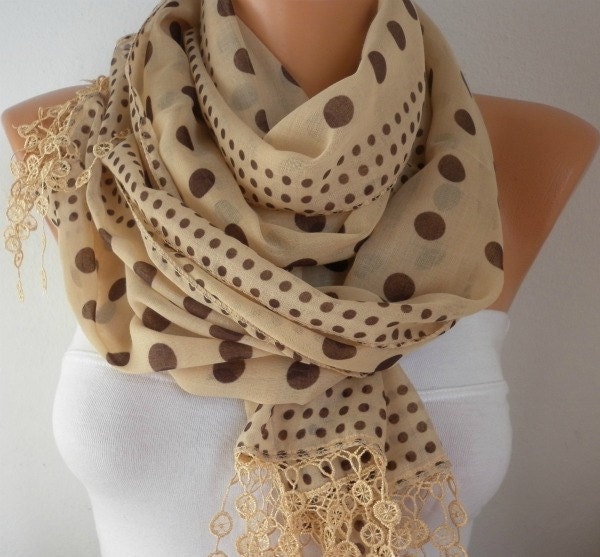 Equestrian Horses Scarf "" $28
I'm not overly or especially fond of horses, but I love the way the print pops on this casual scarf. At 66 inches by 42 inches, it's also the right shape for doing most kinds of scarf styling. The seller offers this particular scarf in a variety of colors,although I heart this green one the most. I can really see wearing this scarf with so many types of outfits; you could take in a sophisticated direction and pair it with riding boots and a fancy bag, or you could take it in the polar opposite direction with a studded belt and '90s pop band t-shirt.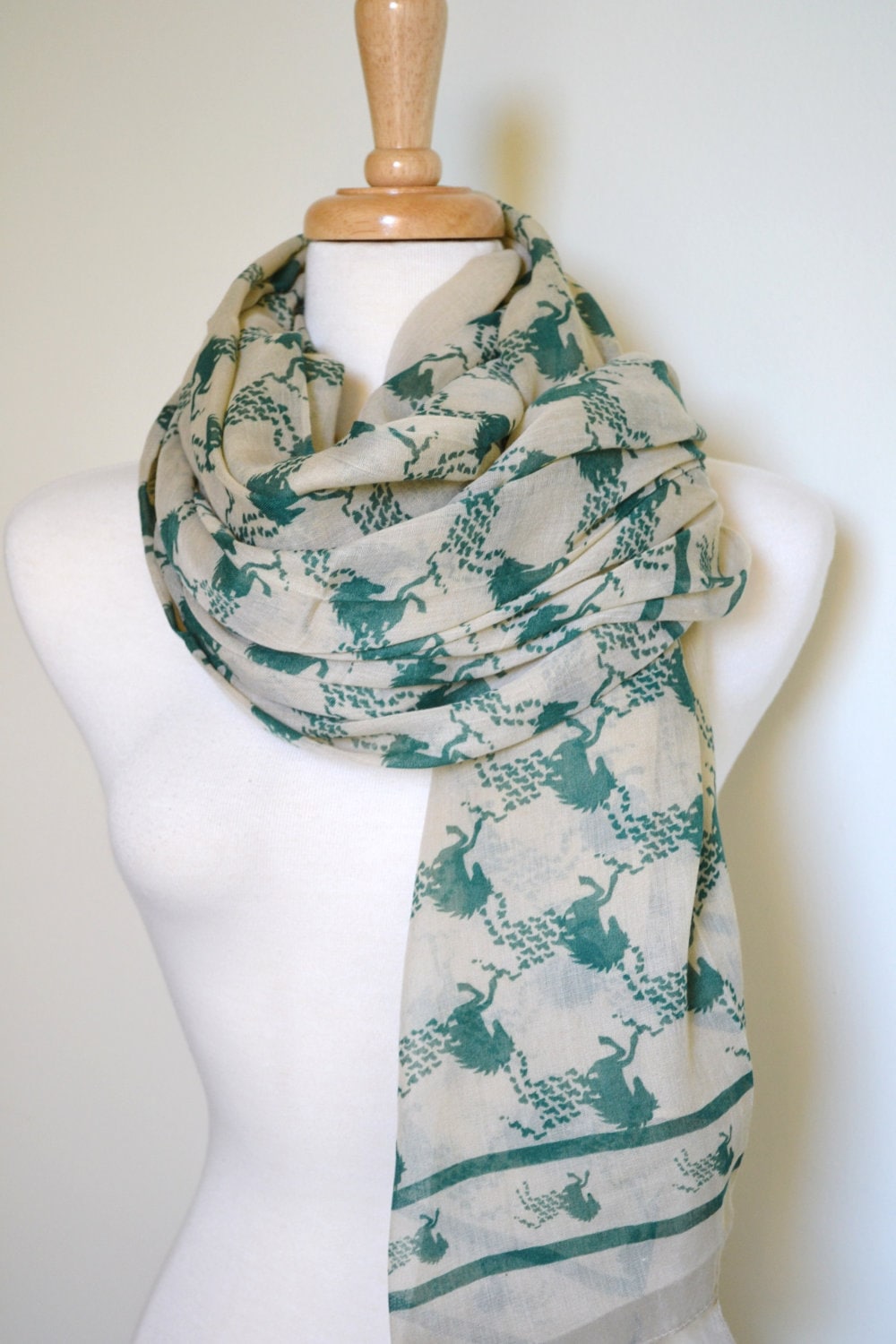 Knitted Purple Neckwarmer with White Button "" $32
Have you ever worked in an office full of people who run on the warm side of the spectrum while you run on the cold? I have, and I really could have used one of these wool neck warmers to get me through those chilly days. I love that it is casual but stylish. At about 30 inches high by 12 inches wide, this neck warmer can go into an office without looking unprofessional; I can see if fitting seamlessly into a professional outfit. I also love the heartiness of the knitting, and for $32, it had better be hearty. I wouldn't want it getting ratty or worn out after three wears out on the town or to the office.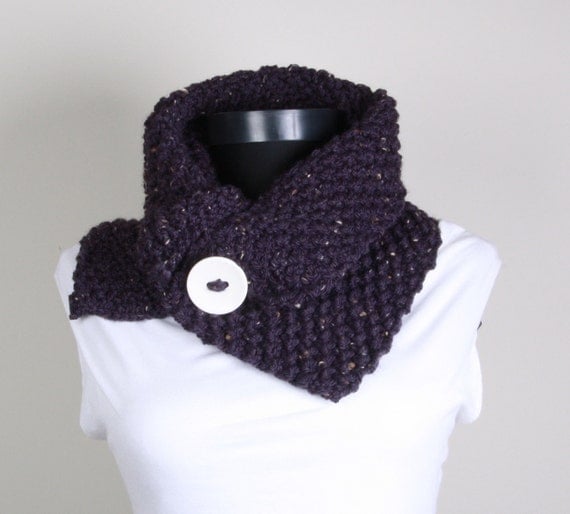 Pashmina Scarf with Floral Lace "" $13.50
I've noticed that the floral lacing on scarfs is an Etsy trend, and you know what? I love it. This rich gold scarf would go well with a bright spring outfit, but equally well with the all black folks in my neck of the woods (namely, Seattle) wear during this time of the year. We don't get springs, don't you know. The scarf itself is made from Pashmina while the lace is made from acrylic yarn. Be sure to look at the other offerings in this shop; she really has so many pretty things!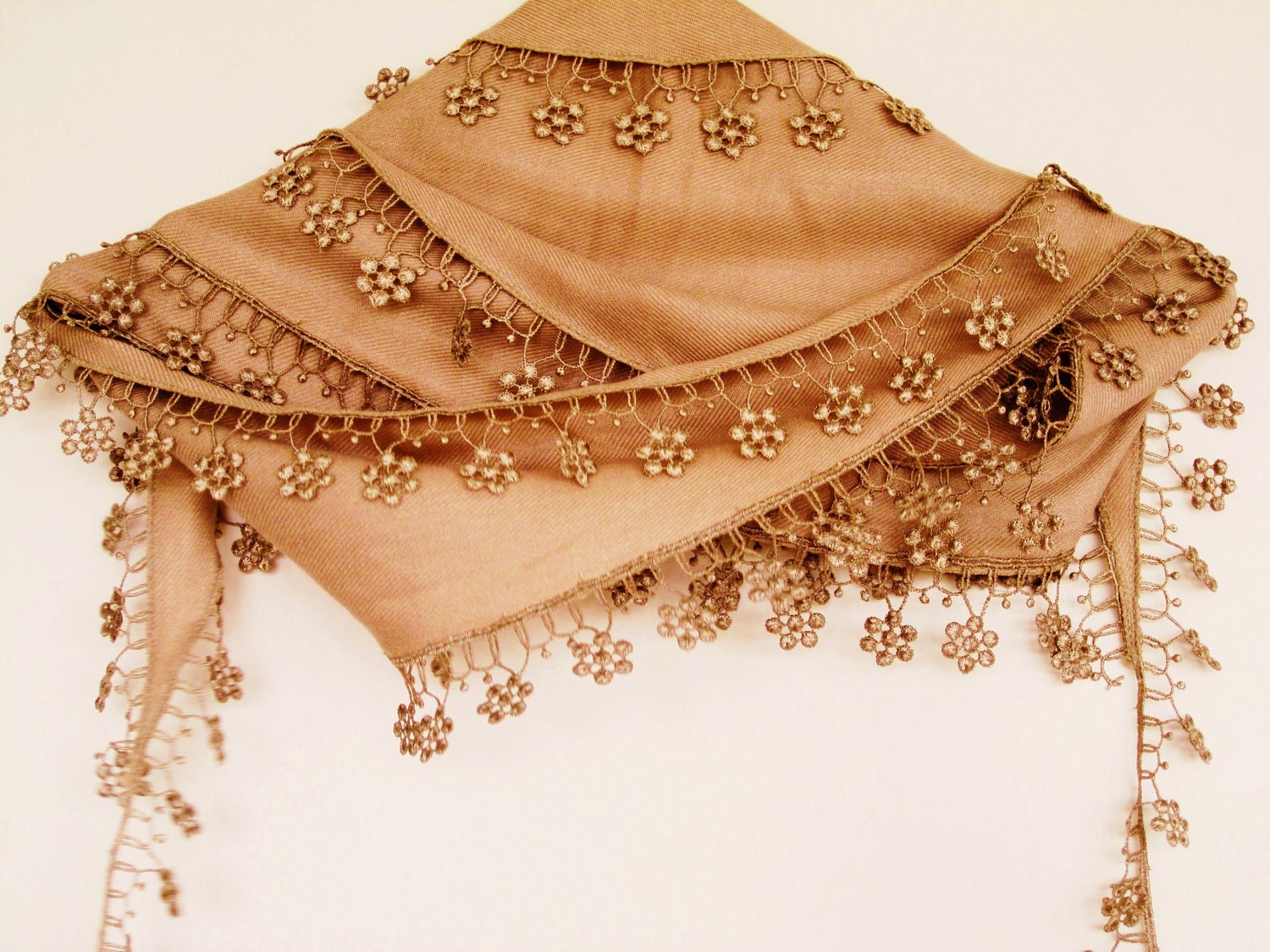 Powder Pink Cotton Long Scarf with Wrinkle "" $22
This cotton scarf is about 87 inches long and 20 inches wide, which means you have so many options for styling. Apart from the color, which is suited to just about every skin tone I can imagine, the crinkling itself is a wonderful fashion statement. I would consider this piece a stand-alone. Keep the rest of the outfit simple and let this scarf speak for itself. As with the listing above, I recommend perusing this seller's shop and drooling over the other offerings.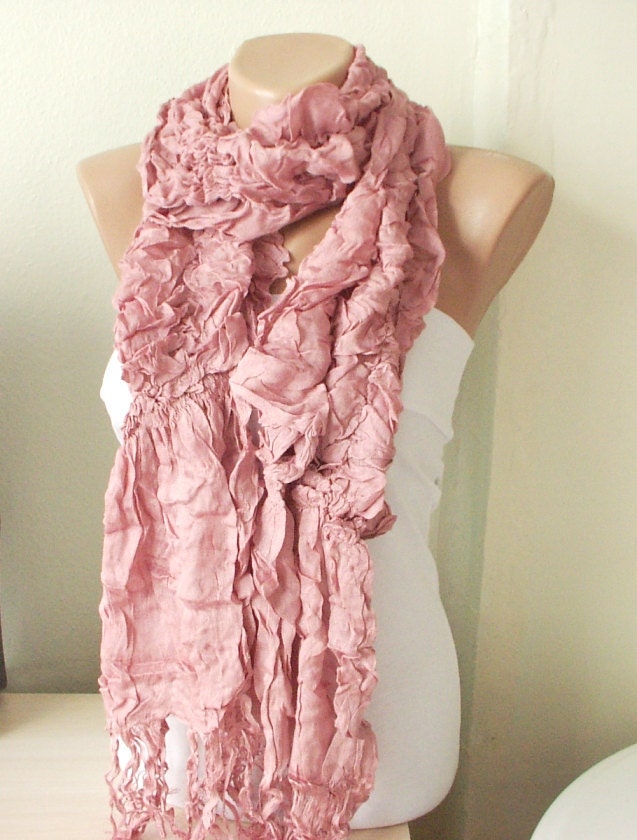 Plaid Scarf "" $19
I have to admit, I love this sort of scarf. The charcoal gray and black goes with just about everything, which means that punks will be just as at home with this scarf as the preps. The hit of sparkle on the scarf is eye-catching, and even more so, I imagine, in sunshine. You could also transition this scarf pretty easily into winter and tuck it into a peacoat or over a thick sweatshirt.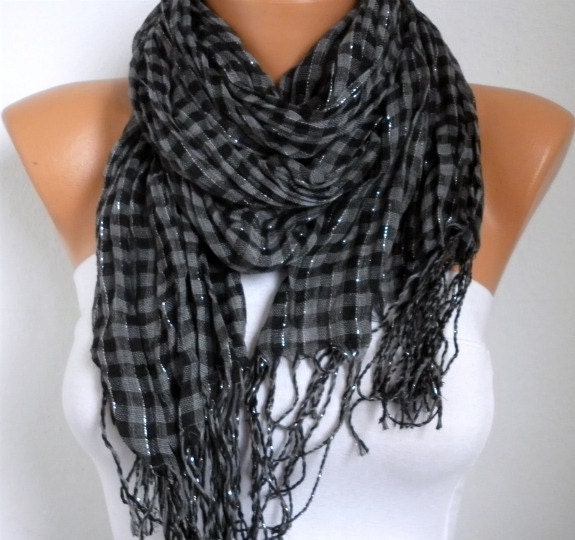 That it for this edition of Etsy Betsy. Have some of your own Etsy scarf treasures to share? Show us in the comments!
***Michelle Miller has received no compensation whatsoever to post or publicize these Etsy items***