My husband and I have been married for a few decades now. We've been working hard on achieving the happily ever after that's been promised in fairy tales, rom-coms, and romance novels. Alas, my state is now the seventh state in the union to pass marriage equality.
It had already gone through the State Senate and then, on February 8, the House voted our marriage equality bill into being. Suddenly, without realizing why, my husband and I started bickering. It was sad and ugly, but we just couldn't help ourselves. We later learned it was the fault of the 55-43 vote.
Washington State Governor Christine Gregoire signed the bill on February 13 and I'll be darned if Gary and I didn't almost have a knock-down, drag-out that day. It just erupted inexplicably. Of course, then we turned on the news and realized"¦ we were fighting because my brother and his partner were celebrating. We had to keep balance in the universe – their joy, our angst. Their yin to our yang. (Or would that be our yin to their yang?)
The law takes effect on June 7. Gary and I are really bracing ourselves. If Tad and Paul, and people "of their kind" start partying big time, what will become of us? Why, the whole foundation of marriages statewide will begin to crumble. People "like us" will overrun the divorce courts. Our alimony checks will break the banks"¦
The Truth of Our Family
My baby brother, Tad, came into my life when I was almost 12 years old. I have adored him, worshiped him, spoiled him from the first moment I laid eyes on him.
Tad's partner, Paul, is also beloved in our family. Tad and Paul have been together for more than ten years and, in those years, we have been grateful to Paul for bringing security, stability, and love into Tad's life. We have also been grateful to Paul for being the one to buy all the Christmas gifts and maintain contact with the rest of us, while Tad was off doing"¦ whatever it is that Tad does!
I love my brother, but the truth is, he's not good at correspondence. Except for the occasional text message. So yes. I love my bonus brother. Or, my extra brother. Or, my brother-in-law. Over the years, I've called Paul all of those things. There has been no wedding, no ceremony, no wedding license. Now, with this new law coming into effect, that may change. It may not. That will be their choice. But, at least they will have a choice. Just like Gary and I had a choice. Or, at least I am praying they will.
The Battle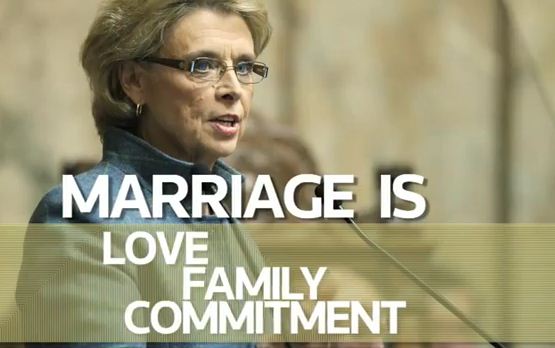 As has happened in other states that have struggled with the issue of marriage equality, Washington state's battle will continue. Before Gov. Gregoire had even signed the bill, opponents were beginning to gather momentum and signatures in order to put a referendum on our next ballot.
Just who are these opponents? The latest polling on gay marriage conducted by the Pew Research Center in October of 2011 found that the public is divided almost evenly on the issue. It is the evangelical and the more traditional, ethnic Christians who show the greatest opposition. Crosswalk.com reported on the poll in the following way:
74% of white evangelical Protestants are opposed
62% percent of black Protestants oppose gay marriage
46% of Americans favor allowing gays and lesbians to legally marry
54% of white mainline Protestants are in favor of gay marriage
52% of Catholics are in favor of gay marriage (in 2010 the numbers were nearly even)
Religiously unaffiliated Americans expressed the highest levels of support for gay marriage, with 72% [1]
If you are not a Christian, or not a conservative Christian, you may have little understanding of the differences in theology and how some Christians can believe that homosexuality and marriage equality are sins, while other Christians believe they are just a part of everyday life. The differences come in how we look at the Bible. Is it the inerrant Word of God and everything in it is literally true? Or is the Bible inspired by God and we find God's truths to be in it?
Opponents of marriage equality frequently use specific verses from the Bible to "prove" that God abhors homosexuality and that gays and lesbians, themselves, are an aberration. They use other scriptures to "prove" that marriage is only to exist between a man and a woman.
How Can We Ignore the Bible?
It cannot be denied that there are some very difficult scriptures in the Bible. Adam and Eve are the first couple recorded in Biblical writings and they are a heterosexual couple (Genesis 2 & 3). Sodom and Gomorrah is the well-known story of sin and destruction (Genesis 13ff). And we've probably all heard that a man must not lie with another man as with a woman (Leviticus 18:22) and that women exchanged natural relations for unnatural ones (Romans 1:26).
But, what happens if we take a closer look at those "anti-homosexual" passages? As with most passages in the Bible, if we look at the time in which they were written and the people for whom they were written, we begin to see a much bigger picture.
Adam and Eve are the first recorded couple and they are heterosexual for one very good reason. God said it very plainly and simply: "Be fruitful and multiply." There were no test tube babies or artificial insemination in those days. So, "male and female He created them." Plain and simple.
Sodom and Gomorrah is a horror story. In a time when hospitality was valued most highly and expected wherever you went, Sodom and Gomorrah tell us the story of inhospitality and gang rape. And, as women, as sisters, as mothers, we should be especially horrified. Because Bible hero Lot says to the visitors, in his wonderfully hospitable way of protecting his guests, "Here, don't take these men. Take my daughters, instead."
As for the other two passages, they've been interpreted multitudes of ways but, most likely, they're talking about unnatural actions. Do not go against your nature. The Romans passage may be talking about prostitution.
Let's face it, if you want to prove a point, you can pick and choose your way through the Bible, pull a phrase out here and there, and voilà , point made. But, if you learn your history, your point may be spoiled.
However, if you do want to take the Bible literally, it's best to learn the history and meaning behind each scripture. You need to know exactly how and why you're following each law.
I loved A.J. Jacobs's book, The Year of Living Biblically, although I was somewhat disappointed that he didn't truly follow all 613 Jewish laws. But, really, was I expecting the stoning of adulterers and the sacrificing of bulls?
As Jacobs reflects on his experience, he writes, "I found that fundamentalists may claim to take the Bible literally, but they actually just pick and choose certain rules to follow. By taking fundamentalism [to the] extreme, I found that literalism is not the best way to interpret the Bible."[2]
There are many people who consider themselves to be Biblical fundamentalists or literalists, but this means different things to different people. If Jacobs could not even follow the 613 Jewish laws for one year, chances are good that few other people are following everything the Bible commands day in and day out for their entire lives.
We cut our hair and shave. We wear clothing of mixed fabrics. We go out and about in public when we're menstruating. We even go to worship. And yes, we can have sex at that time of the month. We don't care if cows of different breeds graze in the same field. We don't stone people. We certainly don't bash our enemies' children's heads on rocks. And, for heaven's sake, we would NEVER stop someone who is physically disfigured from coming into one of our faith communities.
Some might argue that those laws are just in the Hebrew Scriptures. They are passé. They do not apply to all of us. Especially if we're Christians. After all, Jesus came and established a new covenant.
Then, we need to ask, what about the Ten Commandments? We still follow those and they are most definitely from the Hebrew Scriptures.
Perhaps it's time that we all just admit that we follow some of the laws because they are for the good of God and humanity. We have left some laws in the past because they were given for a people and a time long since gone.
Why We, As People of Faith, Must Speak
They're so very vocal, the evangelical, conservative Christians who are on the news, on the telephone, outside our grocery stores, and working so hard to get our signatures and our votes. Working so hard to make sure that marriage will only be between a man and a woman. They picket at funerals with their "GOD HATES F@#S" signs. They carry their anti-this/anti-that signs up and down our streets. And the impact this is having on our world is tremendous.
It's almost as if people are feeding on fear and anger. Judgmentalism and hatred will continue to spread like wildfire.  Until love stands in the way.
If you've seen the movie or the play The Laramie Project, or remember Matthew Shepherd's story you know how love can stand in the way. You've seen the "angels" standing in powerful, silent, peaceful protest, stopping the hatred before it can spread any further.
We need the "angels" to step up. We need those people of courage to step up. If no one does, if the rest of us remain silent, then God's realm of justice, peace, grace is swept away.
That's why people of faith must speak. That's why people of faith must stand up and say, "Yes, there must be equal rights for our GLBTQ brothers and sisters and children. There must be equal rights for all of God's people."
Who knows? Maybe there will be a wedding in my family pretty soon. How about yours?