I don't know what is going on with me, all, but I am currently fixated on accumulating ALL THE NEON THINGS!
Fashion-wise, I try to stay with simple, classic pieces that won't horrify me when I look at pictures 20 years from now. Sure, I will throw in some bold jewelry and/or crazy shoes, and yes, I have plenty of trendy little pieces I mix in with the basics. My home decor is definitely not minimalist in any way; my husband likes to call it "put as much shit on every flat surface in the house as possible" chic. I'd like to argue, but that's a pretty fair and accurate description.
But as you can see, there is nothing particularly colorful about the pieces. I tend to stick with neutral colors as the foundation of the room and have pops of color through art, throws, and the like. But  lately, it is all leaving me empty. I want neon. Lots and lots of neon.
I am a red head, so pink is not a color I am drawn to, clothing wise. I spent my whole life being told red and pink were not the colors for me, and I followed that line of thinking for 30 or so years. Christine Hendricks has shown me I can branch out into burgundy and jewel toned reds, but pink? Not so much. A few days ago, while browsing the local Ross, I found a neon pink tank top for $4.99. Not bright pink, not hot pink. Neon, eye-blinding pink. I bought it and wore it under a black cardigan and black pants, and ended up getting a ton of compliments from coworkers and even two people on the street. While I shouldn't (and don't, at the end of the day. Ask my husband how many times I leave the house in clothes he thinks are ridiculous. Yeah, t-shirt and cargo shorts guy, I'm really going to take my style cues from you!) need validation for my sartorial choices, it still feels good to get a compliment.
I also recently acquired the above shoes from Kohl's Vera Wang collection, Simply Vera Vera Wang Platform High Heels. I don't typically shop there, but I was on a mission for some ripped jeans (kind of undermining my "simple, classic" statement from above, aren't I?) and didn't want to pay a bunch of money for them, because, well, they are freaking ripped jeans. I found a pair, which are, as Meghan can attest, ridiculous, and before I left, I wandered over to shoes. I expected to find a bunch of cheap, plastic-looking footwear that I wouldn't ever put on my feet, and then, like a beacon in the night, there they were. Reminiscent of the awesome brightly colored Brian Atwood pumps adorning the feet of every starlet around at less than1/10 of the price, they had to be mine. I have worn them twice and received an equal amount of praise and confusion. There are two guys in my office who care about clothing on a basic level; they thought they were awesome. The rest of the gentlemen here just did not understand. I enjoy making their brains hurt with what I wear.
Neon can be a scary undertaking. Too much and you look like a bad 80s version of yourself; mixing it with other boldly colored or patterned pieces is something that should be left to the professionals, but little touches here and there can take a boring outfit into some pretty stylish territory. My main piece of advice is to keep the rest of your outfit simple. Black, navy and neutral colors should be the majority of your clothing, while the neon is that "pop of color" you hear every single makeover guru spout off about. Another recent acquisition is this necklace:
Black jacket, white tank, tan pants, plus obnoxious spike neon necklace. Some other potential pieces to start you off:
Blazing Trails Saddle Bag in Neon Yellow :: tobi.
I have been searching for a neon pink leather messenger bag for weeks. Everywhere online that has one reasonably priced is sold out. The McQueen accessories line has a few, but I just cannot drop $700 on a bag, no matter how much I want it. And let's be reasonable, how long and often am I actually going to carry such a bag? Not really the best investment piece.
Neon Pink Geometric Necklace with Gold Rings by restate11 on Etsy.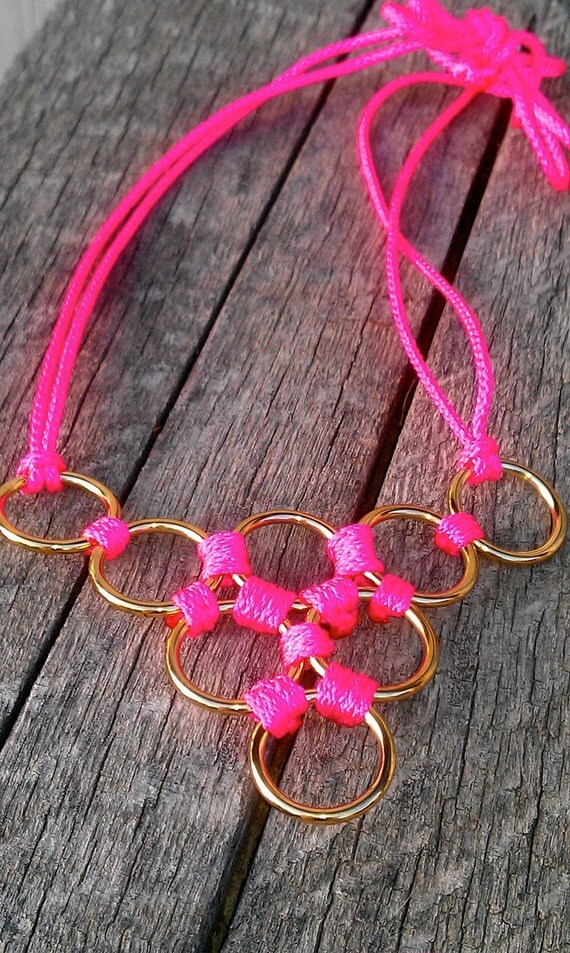 Pink Stud Earrings Hot Neon Pink Square Post by TipToeThirty.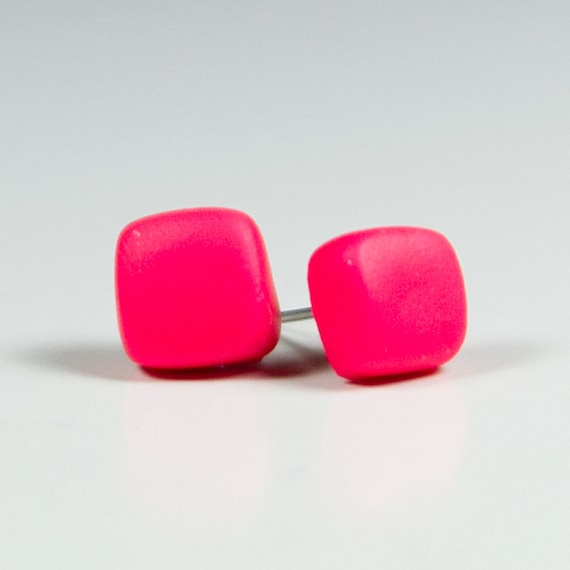 neon pink gold geo faceted adjustable ring cluster by jiorji.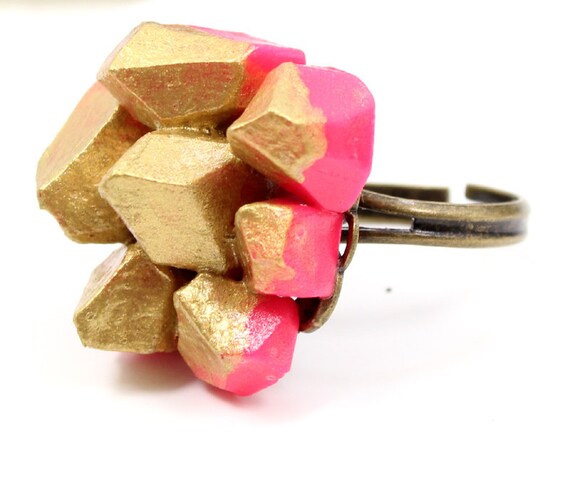 You all better hurry, because this ring is going into my shopping cart pretty quickly. I love, LOVE it.
And now I need some advice on how to convince Jon that the following are good ideas for our house-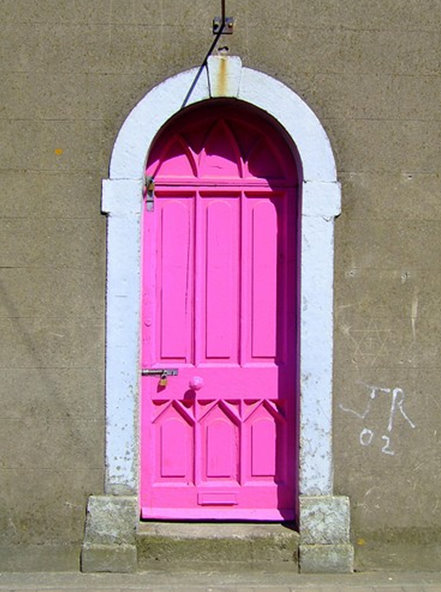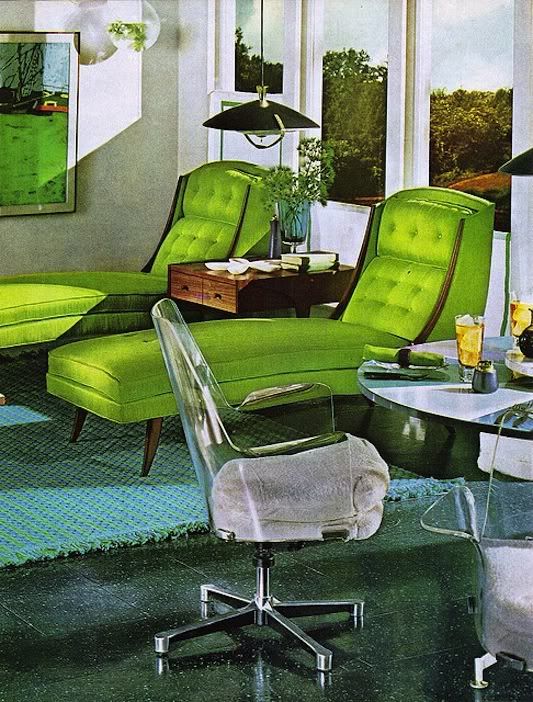 Okay, I know this is an image for a play, but how awesome would a hot pink toilet be? I need to make this happen. Seriously, I can't stop thinking about it.
I could really go on and on with the neon, but I am sure some of your eyes can't take much more of this nonsense. I don't know why I am suddenly drawn to these things as I have never been before, but they make me happy. Something about the blindingly bright colors brightens up my day every time I see them, and really, what more can you ask for?
What do you all think? Are you embracing the neon or does it's resurgence leave you nauseous? Are there any things you feel drawn to but cannot explain why you love them? Things to ponder while I head to Home Depot to find the perfect paint color for my door.