I'm not big on bags. But every so often, the practicality of having everything near at hand wins out and I start looking around for a purse. However, I am frequently disappointed with much of the mainstream style and practices surrounding purses, so lately, I've been looking to Etsy to fill this need. Without further ado, here are a few of my favorites, hand-plucked for you from among the dizzying number of stalls.
Sparrows in Bark "" $35
100% cotton with full lining, this purse has a 10″ zippered closure and plenty of style. I love the brown strap, I love the size – you could fit everything except the kitchen sink in there – and I love the store selling it. Do yourselves a favor and don't just look at this purse, but the entire stall, too.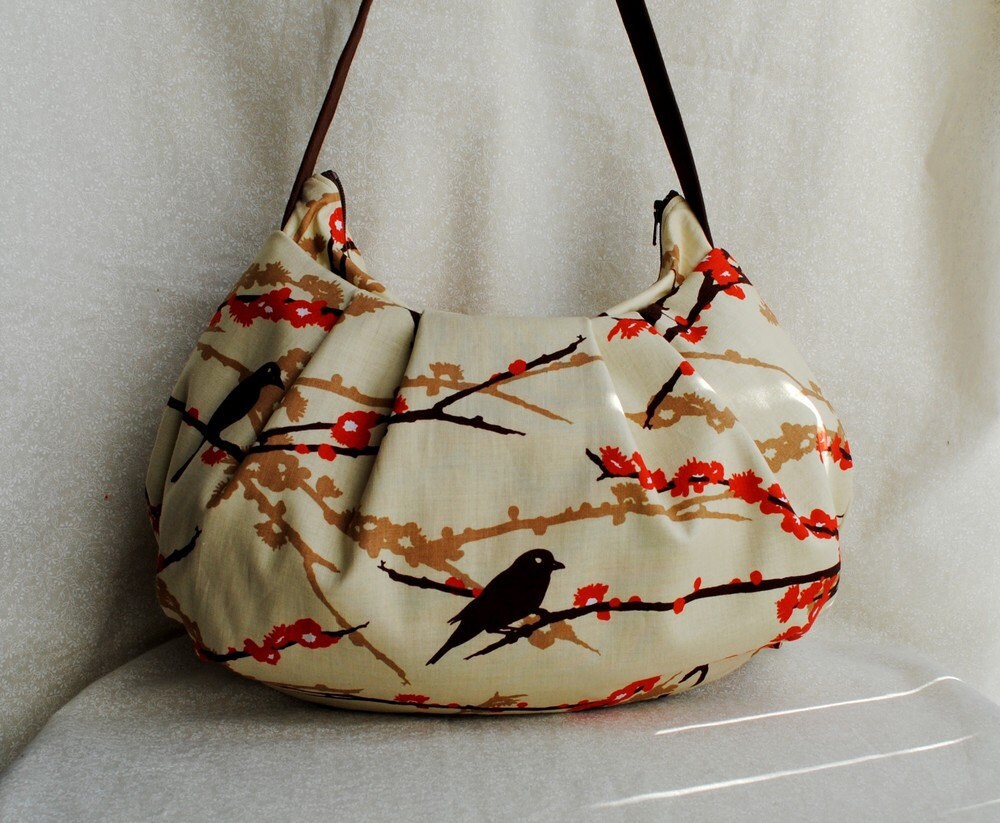 Gray and Ecru Stripes Pleated French Messenger Bag "" $79
The seller notes that this bag would work as a diaper bag, too, but personally, I can see carting this bag to the library on the weekend to pick up some books. I love the simplicity of the fabric, which screams Spring and Summer. But the best part of this bag might just be that it's machine washable, which for a clumsy person like me, who is liable to drop her bag into a puddle of soda on the bus, is pretty amazing.
Black and Off-White Evening Clutch "" $58
This seller is another one whose stall has some really excellent options. Black lace and pearl closure or not, this clutch is not so fancy that it would look out of place in a bowling alley with the right outfit. At 7-inches tall and 4.5-inches wide, it is large enough for a cellphone, a tube of chapstick, and a few plastic cards, which is really all you want to have on you when it's time for a night on the town, in this woman's humble opinion.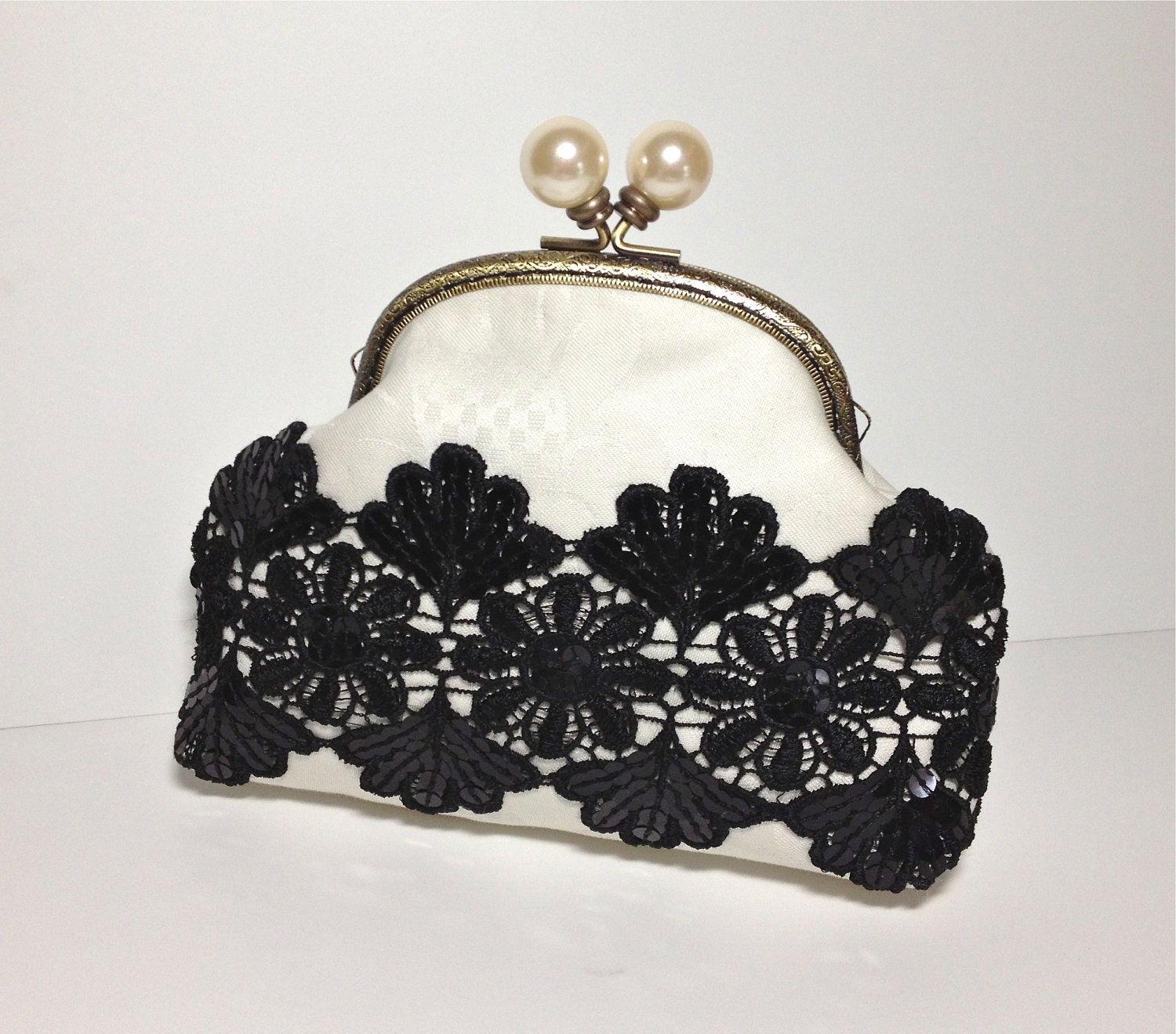 Black-White Denim Handbag "" $45
I can't resist a bag with stripes and a fun shape. This large handbag is available in a number of fabrics through the stall, but this one is my personal favorite. It's casual, but not too casual for work. It has a brown cotton liner and checks in at 16-inches wide and 14-inches deep with an 18-inch strap. I want to throw everything I own in this bag and tour Italy.
Afloat Clutch "" $28
I'm thinking stripes are in this season, not that I pay much attention to what's in or out. Everywhere I go, however, I've seen variations on this theme. And you know what? I love it. This particular clutch is 13.5-inches wide and 10.5 inches tall. It is made of faux leather and cotton, without a mint cotton lining. I would take this with me on a quick jaunt to the boardwalk, if we had boardwalks in this rained out city in which I live (don't mind me – at this time of year, it's hard for Seattlites to imagining anything but rain exists).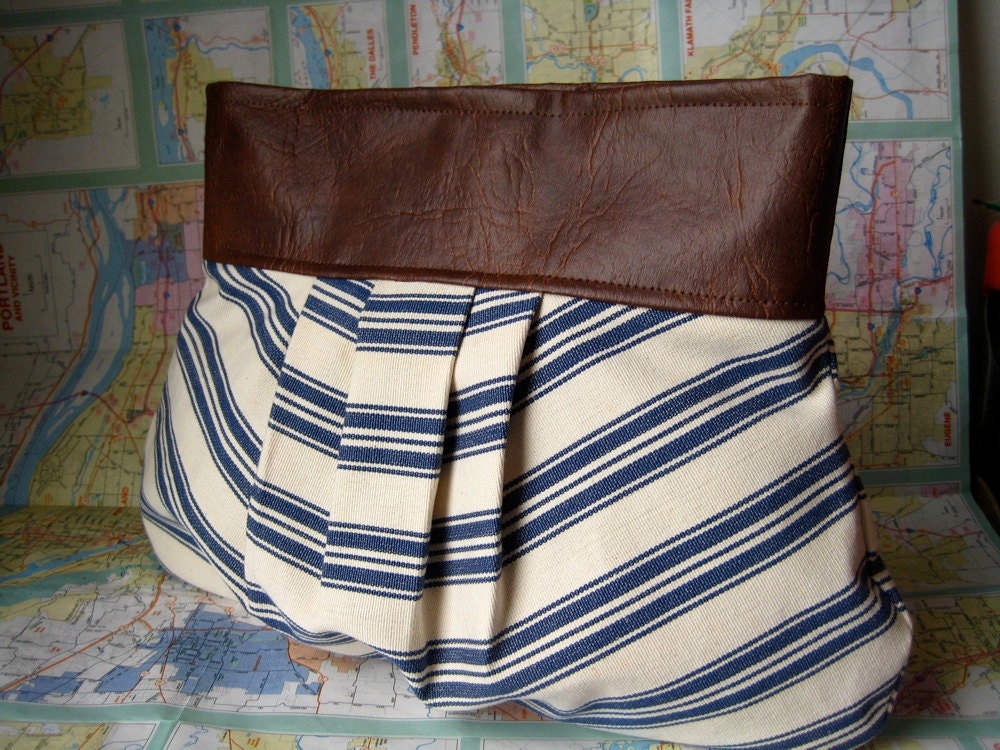 Ruffled Red Shoulder Bag "" $55
Hm, yeah. I might just love everything about this bag. The ruffles are a little something different while the color adds an unmistakable bit of class. I know, I know; some might think it's a little too red to be classy, but I don't buy in to such notions. There isn't any such thing as too red. What I love almost as much as the outside of this bag is its inside. It has the most deliciously practical cream-canvas lining in the world, which means I can let my gum roam free in this thing with abandon.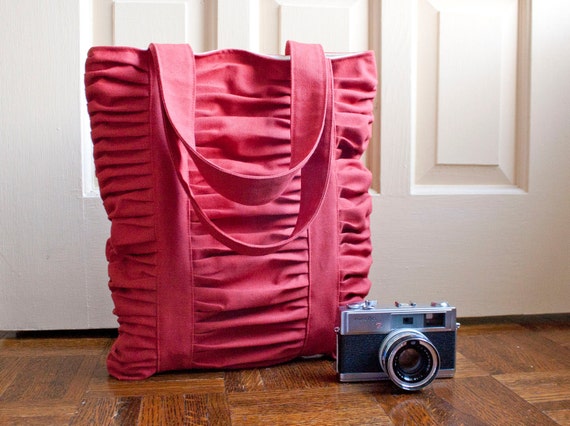 Blue Lotus Collection with Apron Silk "" $35
It's hard even to know where to begin with this clutch. It has a Dupioni-silk lining, an antiqued brass frame, and a color palette that just makes my heart happy. It's about 8-inches wide and 5-inches high, which means it is perfect for, well, clutching. And you know what, I would clutch this thing. Right to my bosom. Where I would never let it go.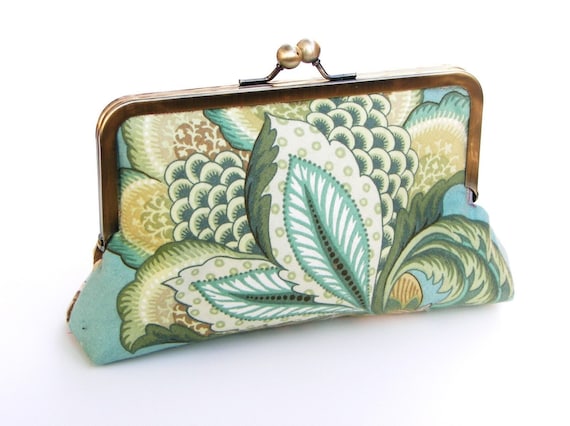 Well, and what do you think of these treasures? If you have a few of your own to share, feel free to do so in the comments!
***Michelle Miller has received no compensation whatsoever to post or publicize these Etsy items***