My husband turned 30 last week, and all of this mile-stoning has gotten me thinking about the toys we played with as children, and all of that reminiscing got me thinking about toys from another time entirely. eBay aside, one of the best places to find vintage toys online is Etsy. So, if you'll forgive this nostalgic young woman, I've compiled a list of a few favorites for our mutual gawking.
Vintage My Little Pony "" $4
Because bishes love My Little Pony.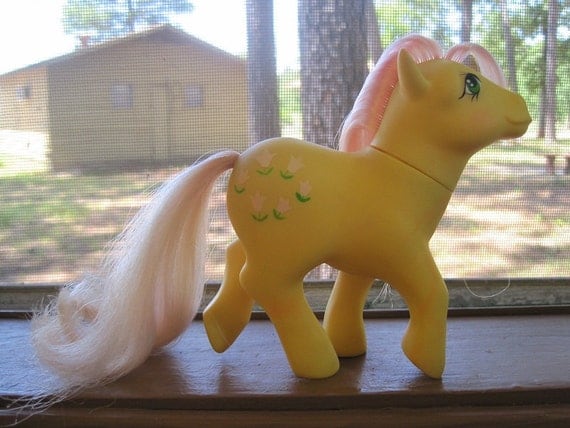 Uncle Sam's Child's Register Bank "" $38
Oh man, oh man, oh man, I would have loved one of these as a kid. I had me a ton of pennies, dimes, and nickels, too. Now in all fairness, they still make versions of this, but from what I've seen, they are plastic. And besides, who wants a digital display to count up deposited money when a person can have this old-timey one, instead?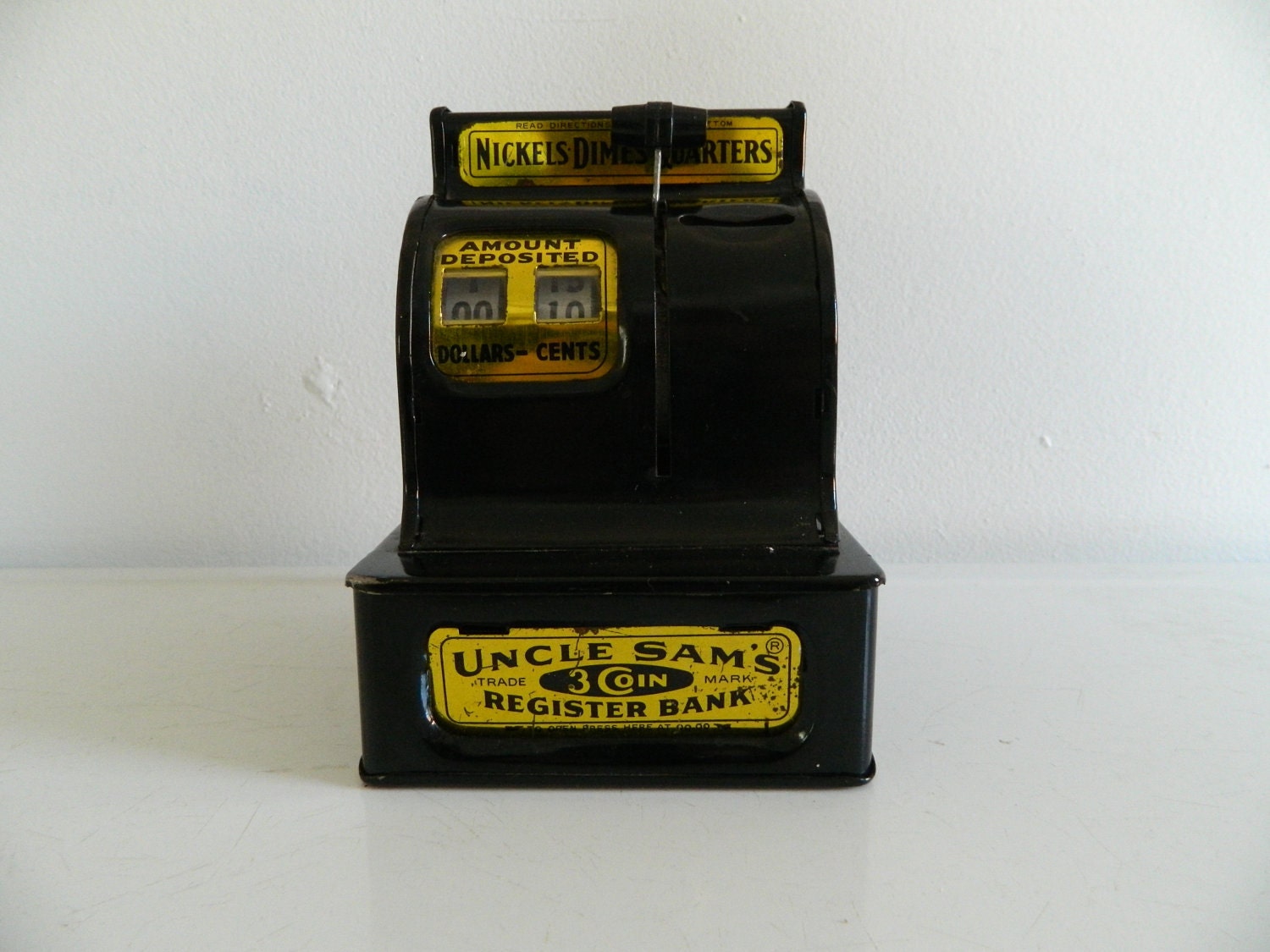 Vintage Paper Doll Clothes "" $12.95
My only sad feeling regarding these precious paper doll outfits is that I don't see any menswear, which is just a shame, because I feel like children of all sexes, genders, and stylistic inclinations could get into paper dolls. I may not be all that old, but even I remember long afternoons putting together outfits and constructing outrageous scenarios in which my stylish paper dolls tok trips to magical candy stores (yes, and I still fantasize about magical candy stores).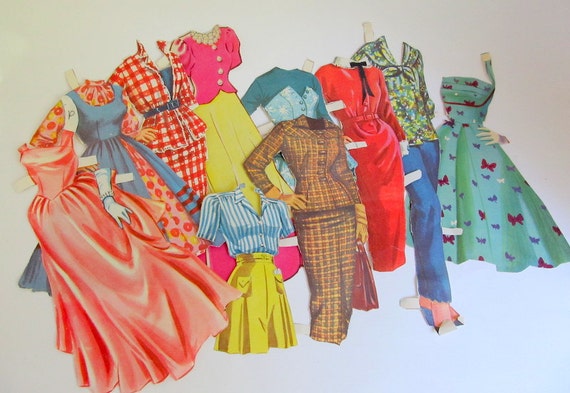 Vintage Donald Duck "" $32.50
To be honest, I don't really know what the hell this is, but it fascinates me in an I-will-probably-have-nightmares-about-this-for-weeks sort of way. I recommend giving this as a gift to someone you loathe whom you are socially obligated to give gifts for special occasions; bonus points if they normally have an appreciation for beautiful vintage items. This will piss them the hell off, but they'll have to smile and accept it. Just like you do at Christmas and Thanksgiving.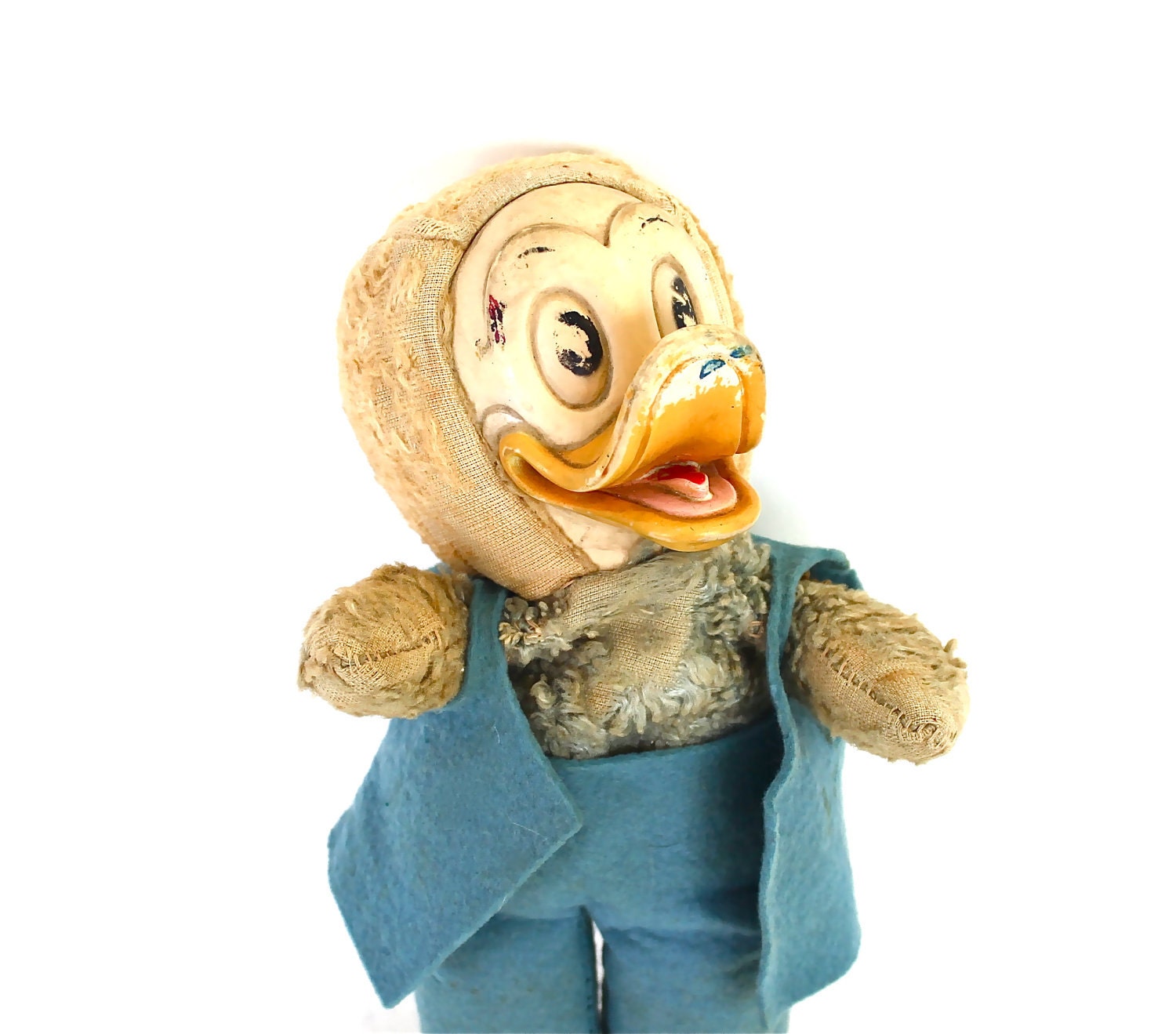 Lucky Metal Elephant "" $30
Y'all, I just love this metal elephant, even if the seller warns that it may have lead in it. I don't care: I would risk lead poisoning just to put this thing high up on a shelf where everyone can see it and the children can't touch (or chew) on it. After that mystery Donald Duck up there, I thought I'd share this treasure with you. I can see it on bookshelves or on an end table.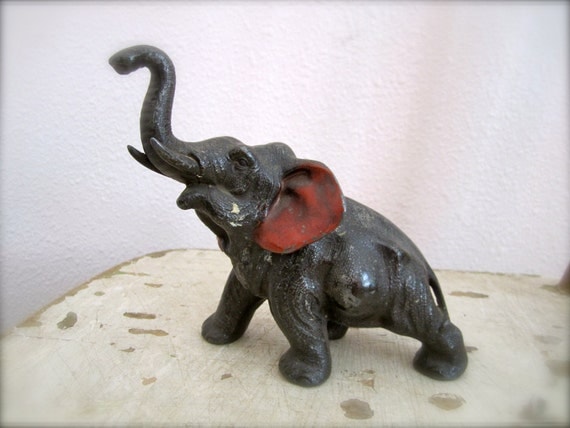 Vintage Lime Green VW Bug "" $27
Now I ask you, why don't they make toy cars as bright and funky as this anymore? All this new-fashioned stuff has bells and whistles and slick detailing, but I say, bring back the day of the metal-chassis toy car with simple structures and flashy colors.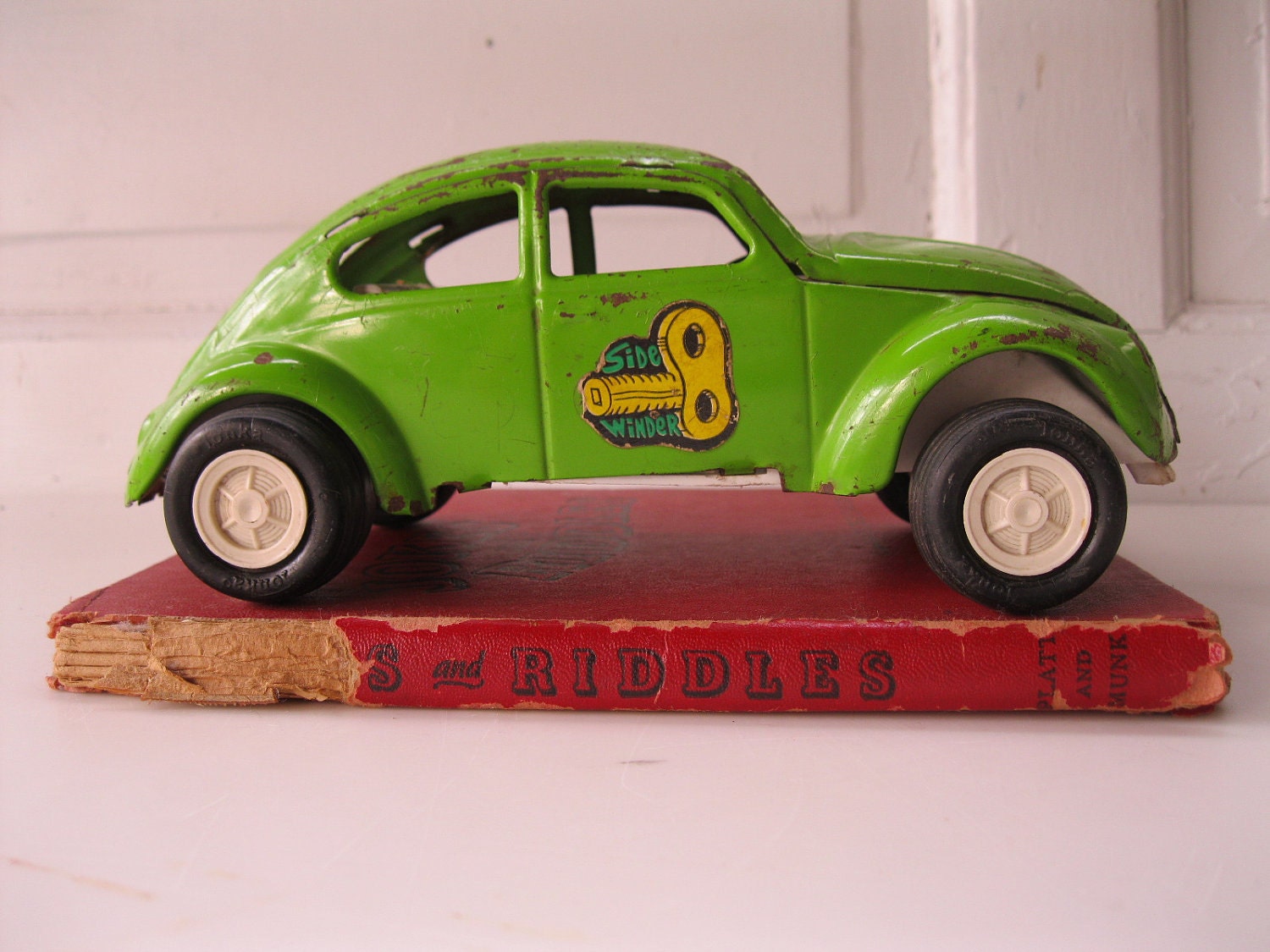 1930/1940 French Red Plush Dog "" $35
Maybe it's just because I love most things French, but this little dog speaks to my soul. First of all, it's red; second of all, it has that whackadoodle forehead and little upturned nose. I don't know that I could justify spending $35 on a plush toy for a future child or chibling, but gosh darn't, I sure wish I could.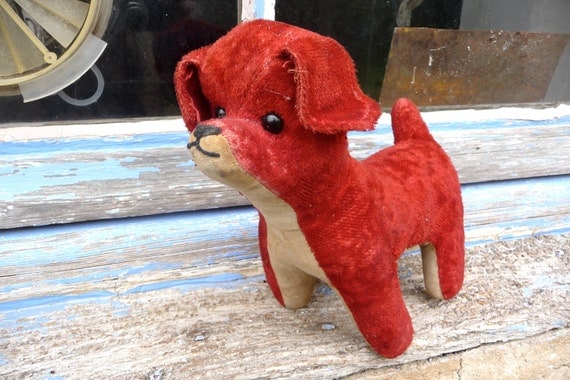 Antique Children's Toy Tea Set "" $200
Oh yes, I realize that is way out of the price for most of us, but it is stunning, truly. I would use this for grown-up tea time, too. Maybe it's not a toy you'd give to two-year-old Johnny or Janie, but it may be one you pass along when Johnny or Janie have kids of their own. You know, a completely impractical grandparent/friend-of-the-grandparents gift.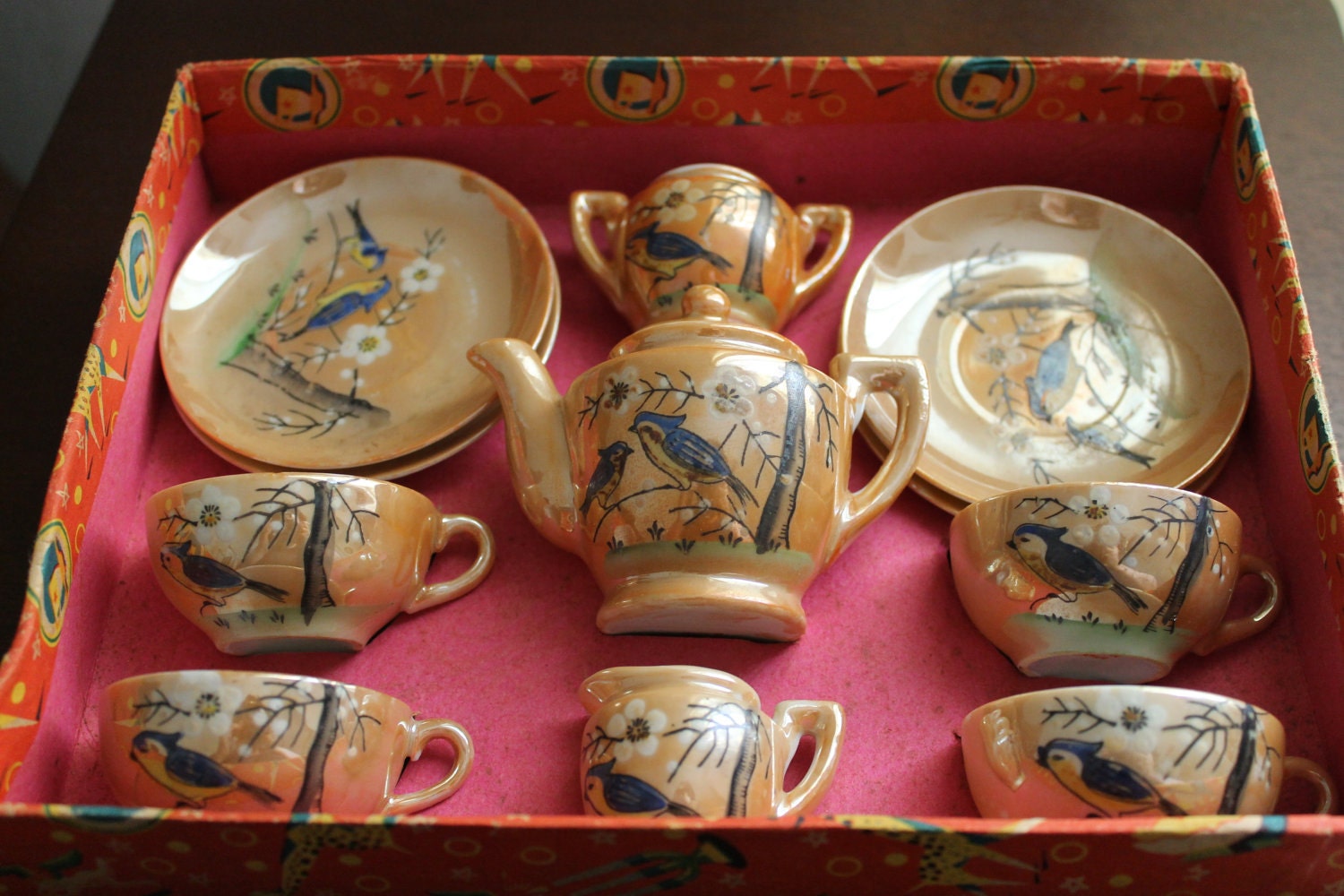 So what do you think of these selections? Any pangs of desire or nostalgic chords struck?
***Michelle Miller has received no compensation whatsoever to post or publicize these Etsy items***
---
Ads That Don't Suck
P-mag is proudly sponsored by our advertisers, including Angry Owl Studio